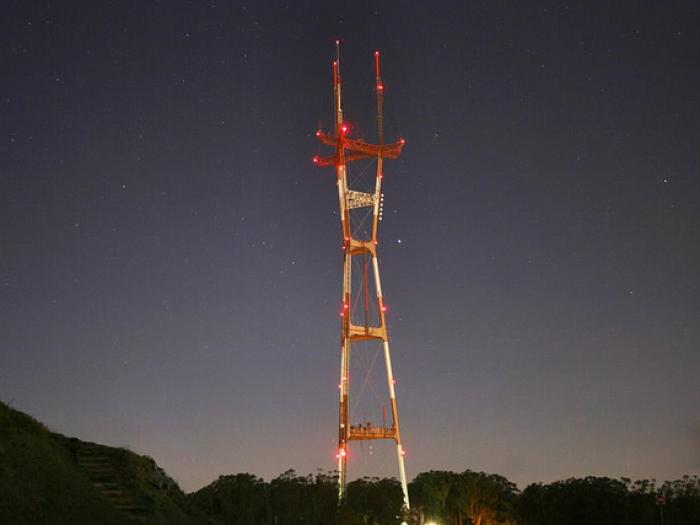 Twin Peaks
Sutro Tower Modification
Sutro Tower is a privately-owned, 977-foot tall communications tower used primarily for television and AM/FM radio broadcasts serving much of the San Francisco Bay Area.
The proposed modifications would relocate existing antennas and add 50 antennas, microwave dishes and camera mounts to the tower. In addition a ground mounted satellite dish and improvements to existing access roads and landscaping are proposed. The Planning Code requires changes such as these to be reviewed by the Planning Commission as a Mandatory Discretionary Review hearing.
Review Process
Building permit submittals for changes such as those proposed by pending building permits (2013.04.12.4452 & 2013.04.12.4453) require a mandatory Discretionary Review hearing by the Planning Commission. The Planning Commission held a public hearing on March 19, 2015 at City Hall, Room 400, where members of the public provided testimony on the proposed project. 
Based on the scope of work, the Planning Department's Environmental Review Officer required that the Project Sponsor prepare an addendum to the previous 2008 Final Environmental Impact Report.
In addition, a licensed engineer, prepared a report to demonstrate compliance with radio-frequency (and other) emissions associated with the proposed antenna additions and relocations. The report is intended to demonstrate compliance with public and occupational exposure standards set by the Federal Communications Commission. That report was reviewed and approved the San Francisco Department of Public Health.
Public Notification Process
A notice was mailed by the Planning Department 20 days before the hearing to all owners within 1,000 feet of Sutro Tower, and to all nearby neighborhood groups registered with the Planning Department. 
A separate notice was mailed, by Sutro Tower Incorporated, inviting community members and neighborhood groups (within 1,000 feet of Sutro Tower) to a community meeting. The community meeting was held on January 7, 2015 at 7 PM at the Saint John Armenian Church at 275 Olympia Way. 
Frequently Asked Questions
Materials for Download
2008 Draft Environmental Impact Report