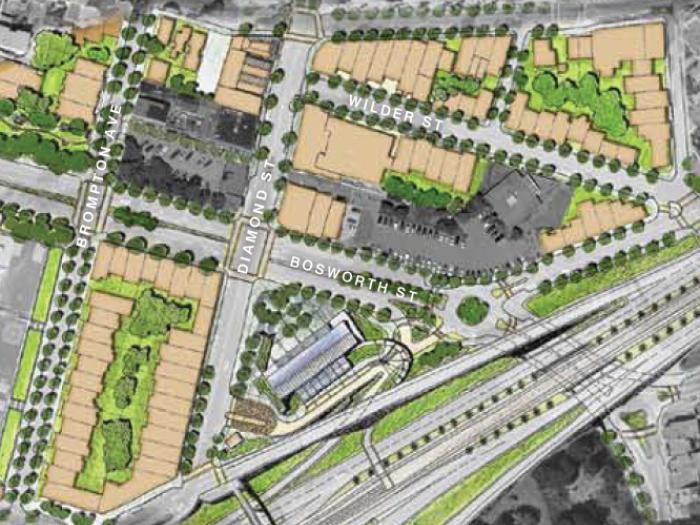 Glen Park
Glen Park Community Plan
Status: Completed
The Glen Park Community Plan was adopted in February 2012, the Board of Supervisors unanimously voted to adopt the Glen Park Community Plan.
In 2003, a series of intensive planning workshops took place with residents, merchants, and public agencies to create a preliminary community plan for Glen Park. The result of this work was the Draft Glen Park Community Plan (2003). After completion of the draft Plan, the project was postponed until additional funding was identified to carry the Plan forward. In 2009, the Planning Department re-initiated the community planning process to revise and update the draft Plan.
What is the Community Plan?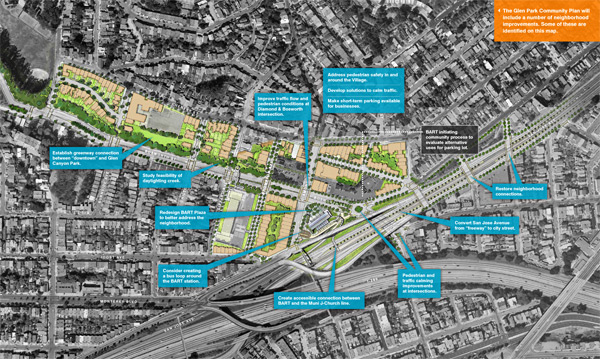 This Glen Park Community Plan is the product of a sustained community process to address issues and op­portunities facing the neighborhood. The focus of the Plan is the "village" or downtown Glen Park – the small cherished but challenged center of the neighborhood and source of great community pride. This is not a redevelopment plan or a plan proposing major change. Instead, it concentrates on a few key issues and provides strategies to preserve and enhance the unique character of Glen Park.
The Plan will become official City policy providing long-term guidance to decision makers and public agencies to ensure future infrastructure projects and land use changes are carried out with sensitivity to the neighborhood's concerns, needs and desires. The Plan directs the City to implement certain near-term projects as well as pursue a couple of larger future visions.
Glen Park's Unique Character
Dating from the early days of San Francisco, Glen Park has evolved from an area of disparate homesteads and pastures into a vibrant and distinctive urban place. The neighborhood combines many of the best features associated with dense urban neighborhoods with the characteristics of a small town. Glen Park's location, walkability, access to nature, connection to transit, and retail district all contribute to the neighborhood's unique character.
The Glen Park Community Plan recognizes the neighborhood's special character and will provide a strategy to sustain, support and continue the special quality of Glen Park. The Glen Park Community Plan is a joint effort between the Planning Department, San Francisco Municipal Transportation Agency (SFMTA), San Francisco Public Utilities Commission (SFPUC) and the larger Glen Park community.
Presentations to Commissions
Historic Preservation Commission hearing on
Glen Park Community Plan Historic Resources Survey
October 19, 2011
Department of Parks and Recreation Forms:
Planning Commission Informational Briefing
February 24, 2011
The Glen Park Community Plan will include chapters on Transportation, Land Use & Urban Design, and Open Space. These will outline a set of objectives and policies to inform community improvements. An implementation document will accompany the Plan describing how and when (near, mid or long-term) improvements will be implemented and funded.
Land Use & Urban Design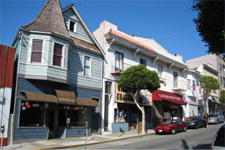 Downtown Glen Park's neighborhood commercial district provides an eclectic mix of small shops, restaurants, grocery store and library. Any new buildings or major renovations should lead to the creation of attractive, pedestrian-friendly places to live, visit and shop in. Any future development proposals should be created in concert with the community to ensure they support the context and character of the "village." Opportunities to preserve and strengthen this successful area include adjusting land use controls, street and public realm improvements, expansion of the retail district.
Open Space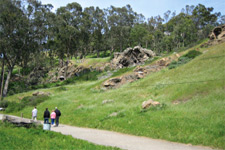 Glen Park's proximity to Glen Canyon Park makes some of the best open space in the city available to neighborhood residents. The area's rich natural history includes one of the city's last free flowing creeks - Islais Creek. Opportunities to create additional public open space in downtown are also available.
Several unique open space opportunities exist that will be explored through the Plan.
Greenway connection between downtown and Glen Canyon Park
Honoring the area's watershed through signage, art installation or exploration of potential creek "daylighting"
Creation of new public gathering spaces in downtown
Transportation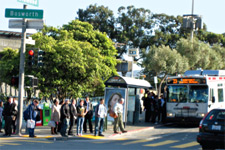 The desirability of Glen Park is formed in large part by the neighborhood's strong transit and pedestrian-orientation. Glen Park is especially busy at rush hours with cars, buses, and pedestrians trying to get to/from the Glen Park commercial district, BART station, freeway, and surrounding neighborhoods. The City's Transit First Policy generally emphasizes the movement of pedestrians, bicyclists and public transit over private vehicles. The Community Plan recognizes Glen Park has a number of competing transportation modes that must be balanced to ensure the street network performs optimally for all and supports long-term goals.
Transportation projects supported under the Community Plan include:
Redesign of the BART plaza
"Village" pedestrian and streetscape improvements
Traffic flow improvements at major intersections
Traffic calming measures
Improved transit connections
Public Meeting - Historic Preservation & Plan Refinements (Zoning & Heights)
June 22, 2011
Public Meeting - Draft Plan Comments & Zoning
November 16, 2010
Public Meeting - Working Draft Plan Release
September 14, 2010
Community Meeting- On-Street Parking
June 10, 2010
Community Meeting - Transportation & Transit Improvements
November 4, 2009

EIR Scoping Meeting
July 16, 2009

Workshop #1 - Public Open House
April 21, 2009
Amnon Ben-Pazi
City Design