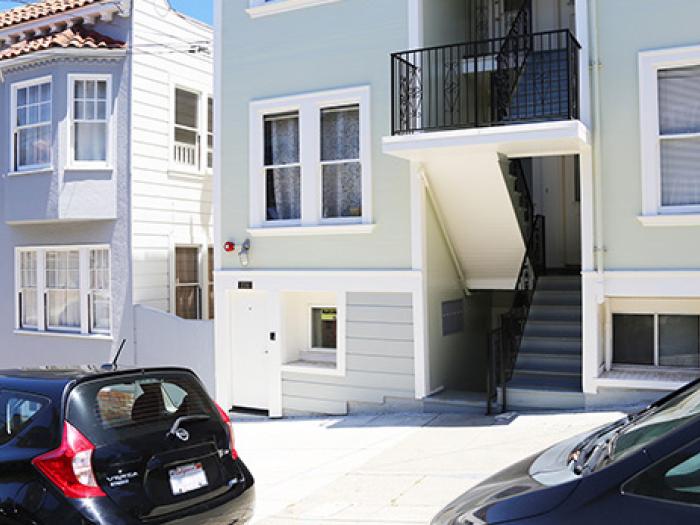 Citywide
Accessory Dwelling Units
A number of State bills revising requirements and processes regarding ADUs went into effect on January 1, 2020. The Department is currently working to determine what impact these revisions will have. Generally, we believe they may offer additional opportunities and/or further relief from Planning Code requirements.

Until a determination is made, please review this Memo, which provides a summary of our current interpretation of State Law and Planning Code options for creating ADUs utilizing the current Local and State ADU Programs. Please note there may be other Code requirements that apply, and further legislative amendments will provide additional details in the future. Please contact CPC.ADU@sfgov.org for additional information.
Accessory Dwelling Units (ADUs), also called secondary units, in-law units, or cottages, are units added to existing residential buildings. In 2016, San Francisco's Accessory Dwelling Unit Program became available Citywide in zoning districts that permit residential use.
See the Supporting Info tab for Guidelines, Checklists and other forms.
Adding an ADU to your property can provide several benefits, such as providing housing for family members, simplifying your lifestyle, and increased financial flexibility. For more information on the benefits of ADUs, please see our video, "Are ADUs Right For You?"
Add a unit to your property: Step-by-step instructions.
There are two programs for adding ADU(s) to your property:
No Waiver ADUs
This program applies to single-family homes that do not require any waivers from the Planning Code, or 207(c)(6).
Waiver ADUs
This program applies to projects in multi-unit buildings and single-family homes that require waivers from the Planning Code to add the ADU, or 207(c)(4).
Draft Regulatory Agreement: If the existing building includes Rental Unit(s) (as defined by Section 37.2(r) of the Administrative Code), and Planning Code waivers are granted, the new unit will be subject to rent control. Generally speaking, these existing buildings are already subject to rent-control. A regulatory agreement will be created adding the new ADU under rent control. Please see a sample of the agreement here. The Regulatory agreement will be edited by Planning staff to reflect project specific conditions, and is required to be fully executed prior to permit issuance.
Mayoral Directives
On August 31, 2018, Mayor London N. Breed issued Executive Directive 18-01 to accelerate the approval of Accessory Dwelling Units (ADUs), commonly known as in-law units, and to clear the backlog of pending applications. On September 27, 2017, Mayor Edwin M. Lee issued Executive Directive 17-02, charging all City Departments to work collaboratively toward faster approvals for housing development projects at both the entitlement and post-entitlement permitting stage. Learn more about these directives.
Legislative Documents and Code Summary Updates
Locate Your Zoning
The San Francisco Planning Department and OpenScope Studio developed a handbook to serve as a guide for homeowners and contractors when adding a unit to an existing residential building; there is also an ADU financial calculator, which can be used to estimate how many years it will take for an owner to break even on the costs of adding an ADU, indicated below.
Legalization of Unauthorized Unit
In some cases an ADU already exists on the property without permits. Use this Legalization of Unauthorized Units Checklist to review what items are required. More information is available on the Department of Building Inspection (DBI) website.
Frequently Asked Questions
Disclaimer: This FAQ is for reference only. To ensure you meet all requirements of the Legalization program, please consult the Planning Code, speak to a Planner at the Planning Information Counter or send an email to CPC.ADU@sfgov.org. 
This information is applicable for property owners of multi-unit buildings and single-family homes with an unwarranted dwelling unit (UDU) on the property who are seeking to legalize the unit.
In 2014, under Ordinance No. 43-14, Planning Code Section 207.3 was established to permit one dwelling unit to be legalized per lot in districts that permit residential use. This is a voluntary program that allows property owners to formally register and rent their unwarranted units in San Francisco assuming all life-safety conditions are met. These additional, existing dwelling units were previously converted by a property owner to turn unused space into a rentable unit. Although it is common, this has been illegal. With this ordinance, one of these existing units may legally join the housing market should the owner follow the process.
This program offers waivers from several areas of the Planning Code in order to legalize the dwelling unit. The Department of Building Inspection (DBI)  maintains a screening program and determines eligibility for enrollment in the legalization program.
* The legalization program can be used in conjunction with the ADU program, see handout for ADUs with Waivers under Supporting Info - or Planning Code Sections 207(c)(4) to learn more. 
---
What You Need to Know
Number of Unwarranted Units Allowed to be Legalized
One unwarranted dwelling unit will be permitted to be legalized on each lot under the program pursuant to Planning Code Section 207.3.  
Converting/ Removing Dwelling Unit Space
Within the existing built envelope, the unwarranted unit is permitted to expand, however the Planning Code limits the amount of floor area an existing dwelling can be reduced and be added to another dwelling unit. Generally, the floor area of an existing dwelling unit cannot be reduced by more than 25%. Please review more details in Section 317 of the Planning Code under 'Residential Merger'. 
Subdivisions/ Evictions
Legalized units are ineligible for subdivision, which means they cannot be sold individually.
The legalization program cannot be used to legalize dwelling units that have had owner move-in evictions filed after March 13, 2014 if the notice was served within five years prior to the permit application being filed for legalization; or other no-fault evictions filed after March 13, 2014 if the notice was served within ten years prior to the permit application being filed for legalization. 
Rent Control
A dwelling unit that was subject to the Residential Rent Stabilization and Arbitration Ordinance prior to legalization shall remain subject to said Ordinance after legalization. Review Chapter 37 of the Administrative Code for more details.
Merging the Legalized Unit with Another Existing Unit
You may request to merge the legalized unit with an original unit through the Conditional Use Authorization process, which requires action by the Planning Commission at a public hearing. Review Section 317 of the Planning Code, specifically the topic "Merger" for the findings that will need to be made for merger of residential units, and also see topic of "Converting/ Removing Dwelling Unit Space" in this FAQ. 
Code Requirements
Planning Code
The Zoning Administrator may waive rear yard, parking, open space, density, and the light and air requirements for exposure for the unwarranted dwelling unit proposed to be legalized. 
Please note that legalizing the unwarranted dwelling unit cannot create or intensify nonconformity for the existing, legal dwelling unit(s) on the property. For example, although the specific square footage for the open space is waived under this program, the addition of a dwelling unit should not remove any existing unit(s) access to shared open space, such as a rear yard. In this scenario, ensure that your plans retain access to the shared rear yard, such as through a common corridor or rear stairs. 
All other Planning Code requirements must be met. The most common requirements that must be met for adding dwelling units include bicycle parking, permeability and landscaping in your front setback area, and street trees (under the regulations of Public Works).
Building Code
All Building Code requirements must be met, including ceiling height, proper ventilation, light, fire safety, and egress. 
A pre-application meeting with the Department of Building Inspection and the Fire Department (for three or more dwelling units with Fire) can determine if there are applicable equivalencies for meeting the Building Code. Please also see Administrative Bulletin FS-05 for information on sprinkler requirements on the ground floor. 
Process and Fees
Fees
Until January 1, 2020, the plan review fees are waived for legalization permits. There are fees for the permit issuance. Check our website for current fee schedule and DBI fees for permits. If other scopes of work are required, these should be on a separate building permit in order to obtain the fee waiver for legalization.
Process
Department of Building Inspection (DBI)
Property owners must start the legalization process with the Department of Building Inspection (DBI). DBI confirms eligibility for enrollment in the legalization program. Please review the G-17 Information Sheet, one of DBI's informational bulletins, for full details on the Unit Legalization program.  
Screening Form
Owners may receive an estimation of the costs to legalize their units by undergoing an initial screening process. This screening is an informal consultation with DBI staff, non-binding and free of charge. Find the screening form on DBI's website.
In order to apply for the Unit Legalization Program per DBI:
Home owners must first hire a professional representative (engineer, architect, or contractor) who  will be responsible for providing the owner with a professional assessment of what legalization may entail.
Home owner must provide documentation that the dwelling unit to be legalized existed prior to January 1, 2013.
Afterwards, they may visit the Unit Legalization Counter found at the 1st Floor of 1660 Mission Street to submit the screening form to be accepted into the Program (Counter 8). Following this screening process, when the owner has essential information needed for a decision, they may then formally apply for a building permit for legalization with the Planning Department and DBI. Two sets of plans are required to apply.
Planning Department
Inquiries can be made to the Planning Information Center about meeting requirements under the Planning Code and applicable waivers under this program (which are outlined in Section 207.3 of the Planning Code). As noted above, two sets of plans are required to apply. Planning's Permit Intake Checklist for Legalization and ADU projects provides an overview of what is expected on plan sets. 
Timeline
Legalization permits cannot be issued over the counter. Currently, the permit review process can take two to four months. Applications that require variances, or a conditional use permit, will likely take six months or more. There is no neighborhood notification requirement for legalizing a unit under this program. 
Additional Resources
In addition, we offer appointment-based consultation, preliminary plan review, and intake opportunities. This is similar to a Planning Department project review meeting. This optional appointment-based plan review is offered prior to or when filing a permit. Preliminary plans are required for comprehensive review and feedback for your project.
The ADU Counter at 1660 Mission is closed during the coronavirus outbreak. Please reach out to CPC.ADU@sfgov.org for inquiries.
Contact the City about your ADU
Schedule an appointment with a City planner or speak to a planner at the Drop-in ADU Counter. Get more details.