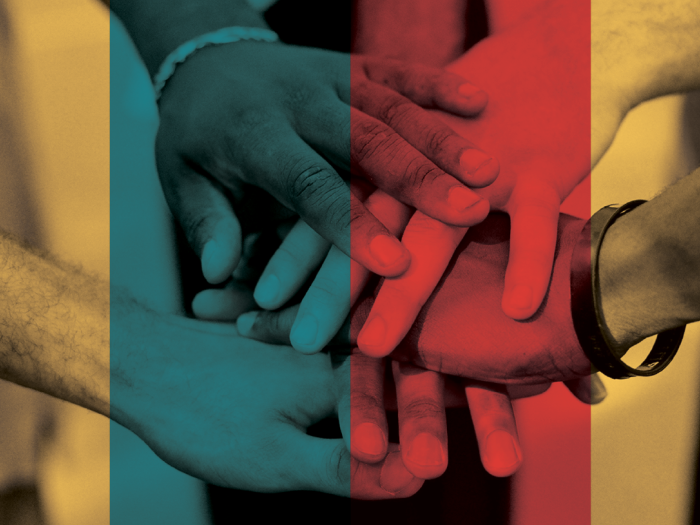 Citywide
Racial and Social Equity Action Plan
San Francisco Planning's Racial and Social Equity Action Plan aims to pro-actively advance equity in the Department's internal and external processes such as community planning, policy development, resource allocation, and process improvements. To accomplish this, the Department's Action Plan will contain specific goals, objectives, actions and accountability measures we will implement and track. On June 11, 2020 the San Francisco Planning Commission adopted Resolution No. 20738 centering the Planning Department's work program and resource allocation on racial and social equity. Read the full document here. On July 15, 2020, the San Francisco Historic Preservation Commission adopted Resolution No. 1127 centering Preservation Planning on racial and social equity. Read the full document here.
Launched in 2016, the Racial and Social Equity Action Plan is an essential component of Planning's work and is supported by the City's Human Right Commission and Mayor Breed's policy priorities. The Board of Supervisors passed legislation in August 2019 creating a San Francisco Office of Racial Equity, which requires all city departments create Racial Equity Action Plans by 2020. The Action Plan is also consistent with the proposed City's Five-Year Financial Plan released on January 4, 2019. The Five-Year Financial Plan states that upcoming budget investments will be driven by the guiding principles of equitable outcomes and accountability. It sets the long-term strategy for city investments, under Mayor Breed's leadership to achieve a diverse, equitable and inclusive city and to generate greater accountability and equitable outcomes in the provision of city services and use of city funds. 
Planning's Action Plan will be updated and monitored consistently and contains accountability measures, will become our primary tool to help advance racial and social equity in our work in a comprehensive way, including internal and external processes (hiring, public information, project review, outreach, etc.), policies and programs, staff capacity-building, and process improvements. 
The Initiative consists of the following components: 
Phase 1 (2016-early 2019) 
A Phase I Action Plan focused on internal functions such as hiring, capacity building, resource allocation, and contracting. 
An Interim Racial & Social Equity Assessment Tool to help staff incorporate racial and social equity analysis into their day-to-day work. 
Structural Racism 101 training for all staff and Commissioners
Phase 2 (2019-2020)
A Phase II Action Plan Updated focused on Planning's external functions such as community planning, legislation, public information and historic preservation among others. 
An implementation plan for both phase I and II 
More tailored Racial and Social Equity Assessment Tools 
Ongoing 
Implementing and tracking the Plan and reporting on progress annually  
Updating the Plan every 2-3 years
As the Plan's development is a learning and iterative process, implementation of the Plan has already begun by launching our staff training in structural racism and bias; using an interim Racial and Social Equity Tool for some of our work; and other similar actions. 
Since Phase II of the Plan is about the external functions of the Department, we will conduct a community engagement process to develop goals, objectives, and actions that address community concerns and causes that prevent us from advancing racial and social equity in our work. 
The Office of Racial Equity is the lead agency citywide advising, conducting citywide racial equity trainings and providing coordination across departments.
Project Timeline
January - December 2016

Participation of 15 Department staff ("Core Team") in year-long, nationwide Government Alliance on Race and Equity (GARE) training
Racial and Social Equity Initiative and Action Plan Phase I launch

Winter 2016-17

Internal, Departmental staff survey completed by 190 staff
Human Rights Commission all-City agencies' GARE participation and Citywide Racial Equity Working Group (CREW) coordination launch

Spring 2017

Racial and Social Equity 101 training for all Department staff development and launch

Spring 2018

Racial and Social Equity Action Plan Phase II planning launch

Winter 2018-19

Milestone: Racial and Social Equity Action Plan Phase I published
January and February 2019 Informational Hearings at the Planning and Historic Preservation Commissions

Spring - Fall 2019

Milestone: Initial 101 Racial and Social Equity training for all Department staff and Commissions complete
Milestone: San Francisco creates new Office of Racial Equity
Next Steps
| | |
| --- | --- |
| Fall 2019 | Action Plan Phase I adoption actions scheduled at the Planning Commission (November 21, 2019) and by the Historic Preservation Commission (December 4, 2019) |
| Fall - Winter 2019 | Action Plan Phase II initial round of community engagement |
| 2020 | Action Plan Phase II draft at the Commissions (spring 2020), adoption by December 2020 |
San Francisco Race / Ethnicity Demographics
These are the current city demographics based on U.S. Census data. The Department aims to provide further breakdown of some of these categories, such as for the Asian population:
Asian 34%
Black/African American 5%
Latino (of Any Race) 15%
Native American Indian 0.3%
Native Hawaiian/Pacific Islander 0.4%
Other/Two or More Races 12%
White 48%
What is Racial and Social Equity?
The Planning Department and other City agencies participating in the Citywide Racial Equity Team lead by the Human Right Commission are defining racial equity, consistent with the Government Alliance on Race and Equity (GARE), as a state when race can no longer be used to predict life outcomes and outcomes for all groups are improved. Social equity is fairness and justice in the management of public institutions, forming of policy and delivery of public services taking into account historical and current inequities among groups, such as along gender identity, sex, religion, and disability status.
Why Lead with Race?
The City of San Francisco challenges all forms of oppression, including racism, sexism, heterosexism, ableism, and many others. The Racial and Social Equity Initiative is the Planning Department's proactive strategy to comprehensively and intentionally address these issues internally and externally in our work. The Planning Department is leading with an emphasis on race to acknowledge that racial inequities have been baked into government, including the planning field, from the inception of this country; and to confront the reality that racial inequities continue to exist in our community. These racial inequities affect all of us and our ability to live well and thrive. We believe that challenging institutional and structural racism is essential to a just and equitable society.
Emphasizing racial equity provides the opportunity to introduce a framework, tools, and resources that can also be applied to other areas of marginalization. Subsequent phases of this work will expand to include other social equity issues beyond race as we develop capacity and resources for implementation. We lead with race and are working on addressing institutionalized sexism, heterosexism, ableism and other oppressions. According to the Government Alliance on Race and Equity (GARE):
" It is critical to address all areas of marginalization, and an institutional approach is necessary across the board. As local and regional government deepens its ability to eliminate racial inequity, it will be better equipped to transform systems and institutions impacting other marginalized groups."
Why a Racial and Social Equity Action Plan?
For many in our region, San Francisco is a great place to live, learn, and work. Yet we have deep and persistent inequities–that in many cases are getting worse and threaten our collective prosperity.
Current day disparities show that people of color continue to fare worse, many years after the Civil Rights Era, than their white counterparts in every area: housing, employment, education, criminal justice, and health. For example, household income for white households is close to three times that of black families and close to double that of Latino, and Native American households; 53% of inmates in the San Francisco County Jail are black while black people only comprise about 5% of the City's total population; and statues and symbols glorifying the conquest and genocide of Native American people exist alongside high school dropout rates, low life expectancy rates and a high percentage of stress-related illnesses for Native Americans in our city.
From the inception of our country, government at every level has played a role in creating and maintaining racial and other forms of inequity. A wide range of laws and policies were passed, determining who could vote, be a citizen, own property, where one could live, and more. With the Civil Rights Movement, laws and policies were passed that helped to create positive changes, including dealing with explicit acts of discrimination. However, despite progress in addressing explicit discrimination, racial inequities continue to be deep, pervasive, and persistent in San Francisco and across the country. Native Americans and blacks have the highest unemployment rate at 15.2% and 17.1% respectively, despite being only 0.3% and 5% of the population respectively. Also, 50% of black households, 31% of Native American, and 30% of Hispanic/Latino households are severely overburdened with housing costs. In addition, close to 50% percent of white residents own their homes, while no other group gets close to 50%: Asian residents have the next largest home ownership rate at 35.7%, and no other group exceeds the 10% rate, most are below 5%, and Native Americans have the lowest rate of any group at 0.2%.
Because the public sector has a responsibility to work for the public good, these racial inequities can and must be addressed. Government has the ability and duty to implement policy change at multiple levels and across multiple sectors to drive larger systemic change.
Planning's work deeply impacts the lives of San Francisco residents and has the opportunity and responsibility to help close disparities. By framing and implementing our work through a racial and social equity lens, we have the opportunity to achieve a number of goals, including but not limited to: more inclusive community engagement processes; better informed policy development; more accessible and relevant programs; and more diverse and equipped staff to meet the needs of San Francisco's diverse population.
Planning has already been working with community members to advance racial and social equity processes and outcomes. In 2015, Planning formed the Community Development team to work in partnership with communities most impacted by demographic change (displacement and gentrification) to find solutions to these issues and other community needs, to build capacity, and to advance equity. These areas are primarily low-income, communities of color and other vulnerable groups.
The Mission Action Plan 2020 (MAP2020) is an example of a recent project that has been deliberate about ensuring equitable outcomes and addressing disproportionate impacts for a specific population impacted by the housing affordability crisis due to gentrification and displacement. Other examples of projects that highlight equity and/or use a deliberate lens to address disproportionate impacts on specific groups include the SoMa Pilipinas: Filipino Cultural Heritage District; the LGBTQ+ Cultural Heritage Strategy; Sustainable Chinatown; the Japantown Cultural Heritage & Economic Sustainability Strategy, the Eastern Neighborhoods; and the Health Care Services Master Plan among others. Moving forward, the Racial and Social Equity Initiative will be a strategy to build on these efforts to systematically bring racial and social equity outcomes to the forefront of our external and internal work. 
An essential component of the livability of any place is the degree to which it is racially and socially equitable. The draft Racial and Social Equity Action Plan outlines a vision, goals, objectives and actions to move the Department and the outcomes of our work in the City closer to that vision: 
Planning's Racial and Social Equity Vision  
We envision inclusive neighborhoods that provide all with the opportunity to lead fulfilling, meaningful, and healthy lives. We envision a city where public life and public spaces reflect the past, present and future of San Franciscans. We envision a city where a person's race does not determine their lives' prospects and success.
We envision an inclusive Planning Department and Commissions that represent and engage the communities we serve. We envision a Department that proactively infuses racial and social equity in both internal operations and external Planning work. Together, we are reimagining what the Planning field is and can be – inclusive, diverse and one that centers racial and social equity both as a practice and as an indicator of success.
In order to achieve this broader city vision, we must do our part and address racial and social equity within the Planning Department's policies and practices.