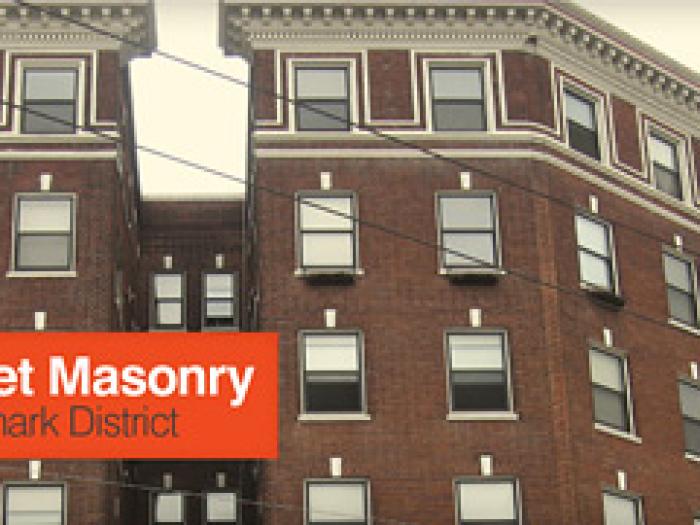 Castro/Upper Market
Market Street Masonry Landmark District
Status: complete
Eight architecturally significant buildings on and near Market Street between Franklin and Valencia Streets comprise the discontiguous landmark district. Master architects including August Nordin and George Applegarth designed buildings in one of the formal styles of the early 20th century, such as Classical Revival, Colonial Revival, and Venetian Gothic Revival.
The Market Street Masonry Landmark District was approved as San Francisco's 12th Landmark District in April 2013.
During the recent Market and Octavia Area Plan survey effort, the eight buildings comprising the landmark district were identified as historic resources for their exceptional and remarkably intact architectural character. On June 15, 2011, the Historic Preservation Commission added the buildings to its Landmark Designation Work Program for local designation. Locally designated properties are regulated under Article 10 of the Planning Code.
District buildings were constructed between 1911 and 1925, when permanent structures were built of earthquake and fire-resistant materials such as reinforced concrete or a combination of brick and reinforced concrete. The buildings display a formal three-part arrangement consisting of a base (often with a commercial storefront), main portion or column (often with residential floors), and decorative top (a cornice or decorative parapet). Projecting bay windows visually reinforce the vertical emphasis, while increasing the light and air into the interior of many of the buildings.
All of the buildings are well-preserved examples and retain most or all of their character-defining features. Unaltered historic storefronts, with their glass transom lights, bronze plate glass window frames and decorative bases are still commonly found on the buildings.
This material is based upon work assisted by a grant from the Department of the Interior, National Park Service. Any opinions, findings, and conclusions or recommendations expressed in this material are those of the author(s) and do not necessarily reflect the view of the Department of the Interior.
 
 
Market Street Masonry DPR523 Forms
These evaluation forms provide a detailed history of the development of each of the eight buildings. The Landmarks Preservation Advisory Board adopted the survey findings in 2009.
 
Walking Tour
Take a self-guided walking tour by downloading this document for more history and information for each building within the proposed Landmark District.
 
Market Street Masonry District Fact Sheet
This document provides some quick facts on the proposed Market Masonry Landmark District.
Contacts
To be added to the mailing list and kept informed of the Landmark designation progress, or if you have questions or comments, please contact:
Frances McMillen
Preservation Planner
Planning Department
1650 Mission Street, Suite 400
San Francisco, CA 94103
(415) 575-9076
frances.mcmillen@sfgov.org
Get Involved
The Planning Department is working with residents, commercial tenants, property owners, and neighborhood organizations to create a community-supported Landmark designation for the Market Street neighborhood.
The community meetings and outreach materials are designed to educate the public about historic preservation in general; its benefits to the community, and how to build heritage tourism for improved business. This website will serve as a hub of information, and a common space to download all materials drafted for the designation. Everyone is always welcome to contact staff with any questions or concerns. Contact information is located at the bottom of this page.
Things you can do to get involved:
Attend a community meeting to get informed about the Landmark process (dates and times to be announced).
Drop by an "Ask the Planner" night at a nearby café (dates and times to be announced).
Spread the word about upcoming community meetings. Contact the Planning Department if you can help post flyers, send emails, or participate in door-to-door flyering.
Contact the Planning Department to share historic photographs, water tap records, maps, architectural plans, building permit histories or other relevant information regarding your building or neighborhood.
Planning Staff will deliver fliers, maps and other printed materials directly to business tenants, and lobbies or public areas for the residents of buildings. We are also interested to hear from you as we develop a heritage tourism component to the Landmark District to improve the visibility for business tenants. Property owners and the public are invited to be directly involved in the crafting of the designating ordinance that will establish specific preservation controls in the Landmark District Designation.