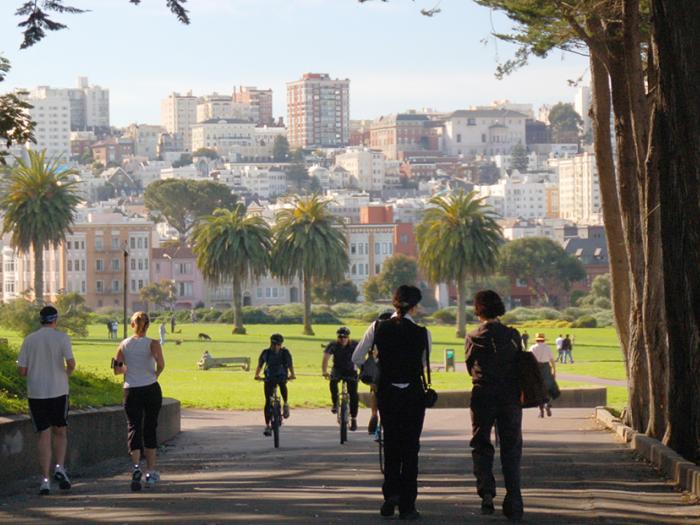 Sustainable City
Sustainable City is a dedicated initiative to achieve the long-term sustainability of San Francisco's built and natural environment. It includes city-wide and neighborhood-scale efforts addressing classically environmental sustainability categories: climate protection, energy, water, waste and materials, air quality, ecology and resilience.
In its commitment to the long-term vitality of San Francisco's built and natural environment, the Planning Department embeds a comprehensive sustainable lens (Environment, Equity, Economy) across all of its initiatives. These include neighborhood plan development, land use, housing, and transportation policies, public space and urban design, community engagement, and more.
The Sustainable City Team leads creative and collaborative partnerships with other City agencies and key stakeholders to support and exceed existing environmental regulations, maximize co-benefits, and facilitate widespread innovation and implementation.
Sustainable City Key Goals
Establish environmental sustainability as an essential and mutually supportive element of livability, affordability, and equity;
Integrate and institutionalize sustainability within policies and projects throughout the city, serving as a resource for City staff and the larger community; and
Maximize equitable co-benefits and inspire participation across all communities
Citywide Sustainability
Click on image to enlarge. Courtesy www.sfclimateaction.org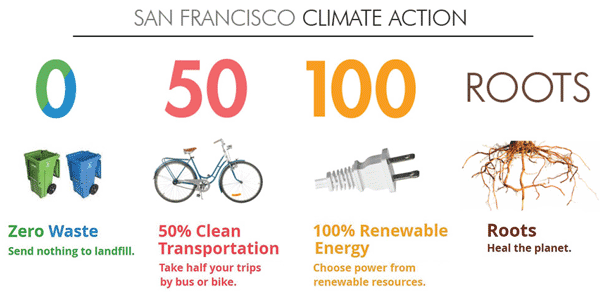 We work to advance San Francisco's established environmental goals through supportive policy and legislation, citywide plans, and the development of a framework for measuring and monitoring sustainability across the city.
Related projects include:
Neighborhood-scale Sustainability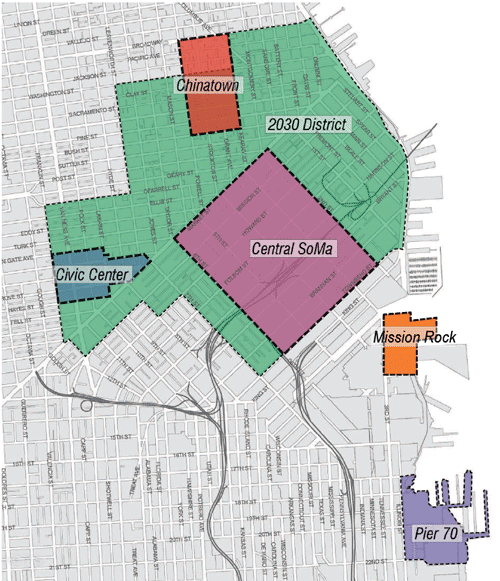 The San Francisco Eco-District program endeavors to amplify sustainability performance and co-benefits through neighborhood-scale projects. The Sustainable City Team works with stakeholders, partner agencies, developers, and utilities to develop policies and programs that exceed City goals and requirements. By leveraging innovative and systems-based solutions (beyond the building scale), these intentionally "green" neighborhoods are more effective and efficient.
Related projects include:
Sustainable Chinatown
India Basin
Building-scale Sustainability
The Sustainable City Team coordinates with other City agencies on green building policy and studies that address improving the efficiency and sustainability of the City's new and existing building stock.
For more information about Sustainable City, please contact:
Danielle Ngo
Senior Urban Planner, Resilience and Sustainability Lead
danielle.ngo@sfgov.org
628.652.7591