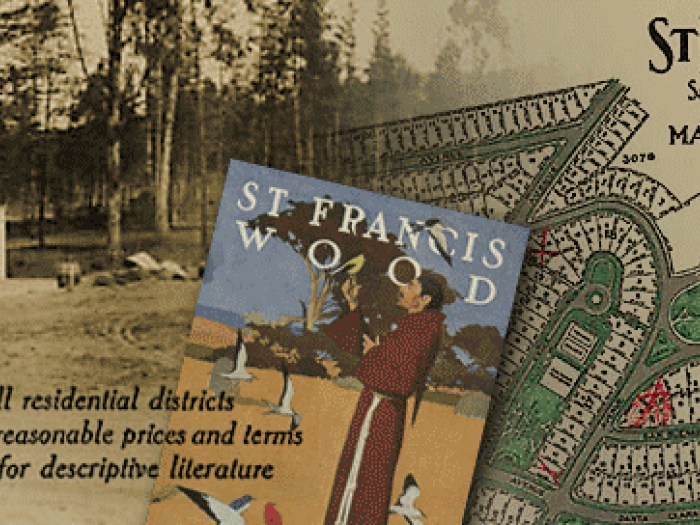 Residence Parks Historic Context Statement
Project Status: Ongoing
Residence parks, also known as "garden suburbs," were an early 20th century form of housing development popular through the 1920s. They were usually built on the outskirts of San Francisco's street system (i.e., west and south of downtown) to suggest a feeling of "living in the country." Large lots, unique landscaping design, and creative advertising added to their appeal, particularly during the rebuilding efforts undertaken after the 1906 Earthquake.
Aside from housing, additional elements such as ornate entry gates, public sculptures, ceremonial stairs and fountains were added to a residence park in order to establish a sense of place. Hilly sites used curvilinear street designs to ease slopes and enhance streetscapes with trees and lush landscaping; some subdivisions contained houses designed by noted architects, such as Julia Morgan, while others provided private amenities such as a park, oversized sun dial, or pond.
The real estate developers who built these garden suburbs often imposed restrictions on them to maintain the features they had created for the landscape. However, given the highly speculative nature of these developments, not all developers were willing or able to provide every popular feature, and the degree of oversight and control they exercised varied a great deal. In some residence parks, such as St. Francis Wood, the developer kept control over all aspects of construction, landscaping, and maintenance for many years. In others, such as Jordan Park, the developer exercised limited control for a short time.
Selected Residence Parks
The phenomenon of residence parks in San Francisco was not restricted to the early 20th century but continued well into the 1950s and 60s. For the purposes of this historic context statement, the following residence parks are the focus of this study:
Jordan Park (established 1906)
West Clay Park (1910)
Ingleside Terraces (1911)
Forest Hill and Forest Hill Extension (1912)
St. Francis Wood (1912)
Lincoln Manor (1913)
Sea Cliff (1913), and
Balboa Terrace (1920)
These examples were selected to provide a range in size, topography, length of completion, and developer experience, vision, and execution.
Department staff and the consultant presented a final draft to the Historic Preservation Commission on April 7, 2021. After incorporating feedback from the HPC and the public, department staff will finalize this context for adoption.
The consultant made several presentations on residence parks during the writing of the historic context statement. These include:  
Northern California Chapter, Society of Architectural Historians - April 2013
Society of American and Regional Planning History – November 2015 
SPUR – January 2016 
West Portal Branch Library – February 2016 
Presidio Terrace Walking Tour – June 2016 
Westwood Park Walking Tour – October 2016 
Hart Howerton – March 2017 
San Francisco History Association – March 2017
Western Neighborhood Project - August, September, October 2020 
 
A public presentation of the Residence Parks Historic Context Statement held at the Planning Department was made by the consultant on August 24, 2017. The presentation included an overview of the development of residence parks neighborhoods accompanied by historic photographs, maps, and current images.  The event was advertised through the Planning Department website, SF Heritage, and the Western Neighborhood Project's website.