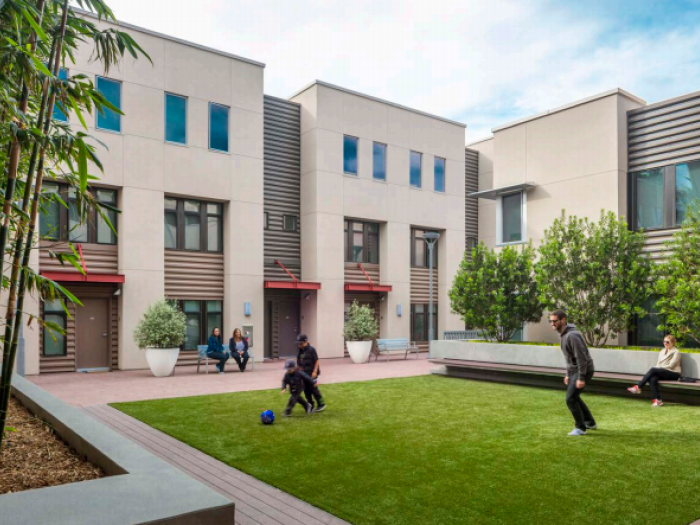 Citywide
Housing Affordability Strategies
These Strategies are proposed in order to help residents, City staff, and policymakers determine how different policies and funding strategies can work together to address affordability and community stability in San Francisco.
The Housing Affordability Strategies examine how San Francisco can improve housing affordability over the next 30 years, particu­larly for low- and moderate-income households. Through in-depth analysis of development feasibility and city policies, programs, and public investments, the Strategies serve to help residents, City staff, and policymakers determine how different policies and funding strategies can work together to address affordability and community stability in San Francisco.
The Strategies offer a comprehensive approach to improve affordability in San Francisco through a range of paths toward achieving the ambitious yet achievable goal of building 5,000 new housing units per year through 2050, ensuring at least one third are affordable; and preserving 1,100 existing units as permanently affordable housing every year for the next 30 years. It does not declare a specific path that we should pursue, but it provides choices as to how our neighborhoods could look in the future and how to support our vulnerable communities to meet our goals.
Key Strategies
Land Use: the Strategies analyzed three land use concepts that could lead to our housing affordability goal. Each concept could achieve the target, but they have different implications for equity and accessibility. The City could pursue one of these concepts alone or combine all three to expand housing choices.
East side: Expand housing capacity with new towers around Downtown and in light industrial areas in much the same area as we've done for the past 30 years. This approach would result in the most inclusionary housing and require the least public subsidy. This would have a significant change to our PDR lands and it also raises equity concerns.
Transit Corridors: Expand housing capacity with mid-rise buildings along transit corridors on the west, south, and north sides of the city. Displacement concerns would be lessened as the growth would be dispersed and a significant amount of inclusionary would be produced.
Residential District: Remove density limits in residential districts without changing heights, ending exclusionary zoning. Some single-family homes may transition to apartments, adding units for family members or renters. Under this concept, we would still see concentration of growth on transit corridors and lower construction costs would be needed for this small-multifamily development.   
Funding: the Strategies estimate that achieving our affordable housing goals is ambitious but achievable: San Francisco will need $517 million per year (in 2020 dollars) and we are very close to this target in 2020. Historically, San Francisco's annual affordable housing funding has fluctuated from a low of $33 million to a high of nearly $200 million, varying based on economic and political conditions. We believe the City can meet the $517 million goal but will take strategic action now to expand affordable housing funding in the future. Potential future funding sources to bridge the gap could come from various sources, such as future housing bonds; a Gross Receipts tax, and regional funding sources.
Cost reductions: to sustain housing production San Francisco will need to reduce costs and risk by:
The City has the most control over costs related to reforming the entitlement and permitting processes.
The larger opportunity for costs savings lies in reducing construction costs by

growing the number of skilled construction workers
facilitating lower cost building technologies such as modular and mass timber
Community Stabilization: to address immediate affordability issues of vulnerable residents San Francisco will need to increase policies and funding beyond production to:
Expand tenant services, education, and outreach
Expand rental assistance to help severely cost-burdened residents or those at-risk of displacement
Focused programs and services on communities of color, particularly the Black community
Focus housing investments to implement Cultural Districts and support vulnerable communities and residents
The Strategies provide comprehensive choices for our decision-makers to address housing affordability by strengthening our community stability and expanding our housing opportunities for all San Franciscans today and tomorrow. These Strategies will:
provide a foundation for a comprehensive Citywide housing plan
support the adoption of near-term housing strategies
support neighborhood housing planning initiatives
These Strategies can allow the City to increase the number of affordable units and housing opportunities reverse the loss of our Black population, reduce income inequality and segregation, provide opportunities for families with children and seniors, and reduce rent burden and evictions.
Background
Our Housing Challenges: San Francisco is in a housing affordability crisis with housing costs that have increased far faster than inflation since the late 1990s and become acutely expensive during the economic boom after 2011. Due in part to lack of affordable housing coupled with insufficient overall housing production and an influx of higher income households, the city has seen an increase in cost burdens and a drop in low- and moderate-income households, certain racial/ethnic groups, and household types. Simultaneously, San Francisco has a long-standing commitment to invest in housing affordable at low and moderate incomes and to protect tenants with local ordinances on rent control and just cause eviction. Despite these efforts, the city has struggled to substantially improve housing affordability for low and moderate-income households and lacks a comprehensive picture of how various policies and programs work together to address affordability, a gap the Housing Affordability Strategies is meant to fill.
 
2018
2019
2020
 
Q1
Q2
Q3
Q4
Q1
Q2
Q3
Q4
Q1
Housing Needs and Trends Analysis
Report Release
 
 
 
 
 
 
Public Engagement
Community forums & advocate interviews
Technical expert meeting
Policy focus groups & technical expert meeting
 
 
 
 
 
Community Focus Groups
Tools Inventory and Assessment
X
X
X
X
X
X
X
X
 
Housing Affordability Doc
 
 
 
 
 
 
 
X
X
Housing Strategies Report
Policy White Papers
Offering more detail on policy issues summarized in the main report.
Stakeholder & Public Engagement
The HAS was shaped by input from diverse voices including:
Technical Experts: the HAS included meetings with experts in housing economics, finance, and development and demographic projections to provide input on metrics and policy tools.
Housing Advocates: the HAS included housing policy focus groups with housing advocates of diverse views from organizations that regularly work on housing affordability issues to provide input on metrics and policies.
General Public: the HAS included public forums and focus groups gather input and share information with diverse members of the public.
Planning Commission and Elected Officials: the HAS will engage the Planning Commission and elected officials for their input and provide public presentations.
Collaboration with City Partners: Planning worked on the HAS with City agencies who also focus on housing including MOHCD as well as HSH, OEWD, and others.
Deliverables
Housing Needs and Trends Report and Executive Summary – released July, 2018
Executive Summary and Report
The Housing Affordability Strategies (HAS) analyze how the City of San Francisco can improve housing affordability over the next 30 years, particularly for low- and moderate-income households. The HAS analyzed development feasibility, City policies, and public investments needed to achieve the City's housing targets created through both Mayoral action and the will of the voters: build 5,000 new housing units per year, at least one third of which should be permanently affordable at low and moderate incomes. In addition, the HAS analyzed programs to preserve affordable housing and to protect and stabilize residents. The purpose of the HAS is to help residents, City staff, and policy makers understand how different policies and funding strategies work together to address affordability and foster the diversity of our city. The analysis and outreach for the HAS will inform the 2022 Housing Element update.