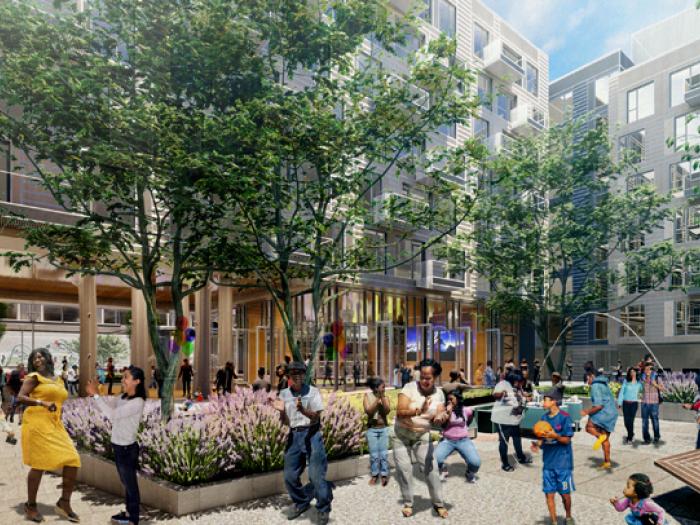 Freedom West
The Freedom West Homes Corporation is proposing to replace existing cooperative housing units and add new housing, public space, commercial spaces, and community facilities.
Freedom West is an 11-acre housing cooperative in the Fillmore Western Addition. It is generally bounded by Golden Gate Avenue to the north, Gough Street to the east, Fulton Street to the south, and Laguna Street to the west. Bethel AME Church is adjacent to the Project Site and sits at the corner of Golden Gate Avenue and Laguna Street.
The site is currently developed with 382 units of affordable cooperative housing and 318 surface parking spaces owned by the Freedom West Homes Corporation. The proposed project would include the replacement of existing cooperative housing units and new residential, commercial, hotel, parking, and community facilities. It would also create public and private common spaces, including public access to a previously vacated portion of Octavia Street.
The proposed project, referred to as "Freedom West 2.0", would be realized in two main phases through a Development Agreement between the project sponsor (i.e., the partnership of MacFarlane Partners, LLC and the Freedom West Homes Corporation) and the City of San Francisco.
The sponsor envisions the proposal as the progression of the original vision of Reverend Hall of Bethel A.M.E. Church for the creation of Freedom West in 1966, thus honoring the legacy of the Fillmore while creating a new model that advances restorative justice. To these ends, the project proposes to replace the 382 affordable co-op units, maintain Freedom West cooperative ownership, and develop a long-term, sustainable financial plan for the co-op.
 
Planning Milestones and Documents
Information found here is related to the planning and approval process for the Freedom West project. For additional information related to community outreach conducted by the Project Sponsor, visit their website.
| Date | Description | Materials |
| --- | --- | --- |
| February 26, 2021 | Submittal of Preliminary Project Assessment and review by the Planning Department | |
| November 22, 2021 | Submittal of Project Application | |