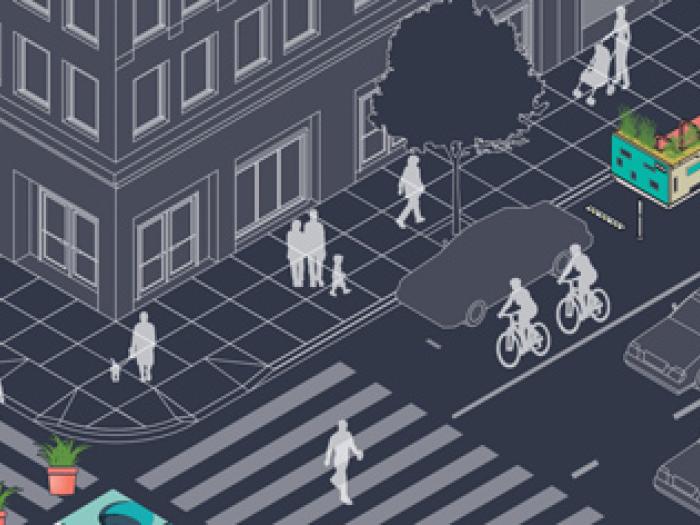 Places for People
Places for People is San Francisco's Placemaking Ordinance. The legislation established the Places for People Program and a comprehensive, interagency permitting framework that streamlines the community-based development of public space demonstration projects and programming activation in those spaces across San Francisco. The framework reflects national best practices, synthesizing the model of various other cities.
What is Places for People?
The adoption of Places for People marks a pivotal juncture in the global placemaking movement – where grassroots activities have effectively registered with government institutions, resulting in more responsive planning strategies, marked policy shifts, and a reformation of modes of governance. The Places for People Ordinance – the first ever of its kind in the country – signals a new era for the practice of city-making, for both governments and citizens.
This project provides resources for other jurisdictions are considering creating a similar placemaking ordinance, and who wish to understand more about the Places for People program in San Francisco. For more information, see Contact.
Background
San Francisco leads the nation with innovation in good civic governance. Pavement to Parks, initiated in 2009 as a joint program of the Planning Department, Department of Public Works, Municipal Transportation Agency, and Mayor's Office of Greening, has been touted internationally for its community-based approach to creating and testing publicly-accessible, neighborhood-serving open spaces.
In 2013, the San Francisco Mayor's Pedestrian Strategy recognized the importance of community-based public space projects as part of the toolkit for creating safe, walkable neighborhoods by including a goal to create twenty "parklets" and two "pedestrian plazas" per year.
Since the inauguration of Pavement to Parks, several other related projects such as "Living Innovation Zones" and the Market Street Prototyping Festival emerged in San Francisco. These short-term projects may last from one week to two years, and are comprised of temporary or 'reversible' installations and events that test community-generated concepts for public space. These and Pavement to Parks – together with other programs such as Sunday Streets, Play Streets, and Vision Zero "painted safety zones" – form a spectrum of innovative solutions for diversifying and optimizing the use of our streets to better serve the open-space and mobility needs of our citizens.
Though public demand for community-generated public open spaces continued to increase, the City's interagency review, permitting, technical, and financial assistance services remained based on older models for managing our public spaces and rights-of-way. The interagency and often cross-jurisdictional nature of projects poses procedural complexities that formed barriers to wide participation by community groups; while weak or inconsistent code bases limit the range of enforcement and quality-control responses available to City agencies.
The Places for People Ordinance was sponsored by Supervisor Scott Weiner, and was adopted unanimously by the San Francisco Board of Supervisors in October 2016. Since then, an interagency team lead by the Planning Department has implemented the legislation with the development of a number of resources for use by government agencies, partner organizations, and others.
| | | |
| --- | --- | --- |
| Lower Barriers to participation | Facilitate Greater Equity (geographic distribution) of Projects in all neighborhoods | Enable More Activation that is frequent, diverse, and free to the public |
| Streamline Permitting and agency review processes | Create Self-Financing opportunities to better support long-term stewardship of Places | Define Parameters for operations, permit terms, and enforcement thresholds |
Organizational and Institutional Sponsors of Ordinance
The following organizations informed the development of the Places for People Ordinance. Many also testified in support of the legislation at the Committee Hearing and/or submitted letters of support for the adoption of the Ordinance, which can be downloaded from here.