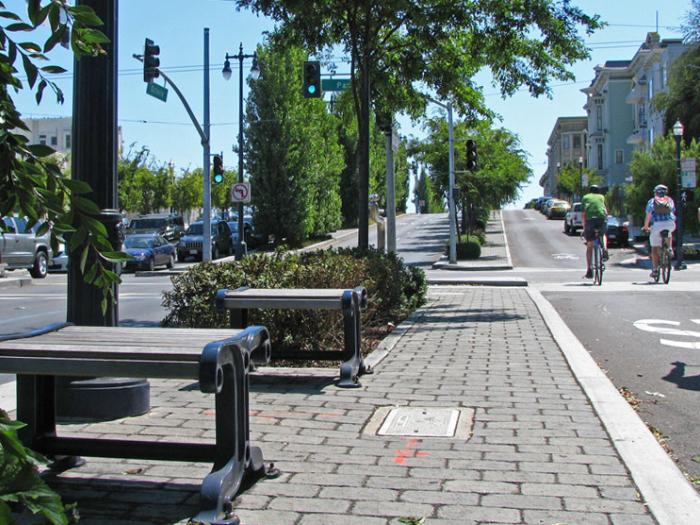 Citywide
Street Design Advisory Team (SDAT)
The Street Design Advisory Team (SDAT) is an advisory body that provides a regular forum for City agencies to review and comment on proposed changes to the public right-of-way. SDAT is chaired by the San Francisco Planning Department and composed of members from the San Francisco Municipal Transportation Agency, San Francisco Public Works, and the San Francisco Public Utilities Commission.
SDAT exists to ensure that City agencies provide clear and consistent guidance to project sponsors who have a requirement to improve the public right-of-way pursuant to the Better Streets Plan and Planning Code Section 138.1.
Additionally, SDAT conducts design review of privately sponsored public spaces such as privately owned publicly accessible spaces (POPOS), which are privately funded and maintained park-like or plaza spaces built on private property, and in some cases within the public right-of-way.
Through Planning's approval process, the City can require project sponsors that trigger Planning Code Section 138.1 to make improvements to the streetscape fronting their property. These projects are typically mid-to-large developments. SDAT's primary charge is ensuring that street and sidewalk changes initiated by these projects are built to the highest possible standards in terms of safety, accessibility functionality, conviviality, aesthetics, materiality, and maintainability.
Planning Code Requirements Related to Street Design
SDAT reviews and advises on the scope and design modifications to the streetscape for compatibility and compliance with the Better Streets Plan, which is codified in Section 138.1 of the San Francisco Planning Code.
The BSP establishes standards for the design of the pedestrian realm and parking lane within the City and requires projects of a certain scale to bring their fronting sidewalks in conformity with these standards. These changes to the City's public right-of-way typically entail sidewalk widening, bulbout construction, street trees and understory plantings, and installation of special paving and street furniture.
Other Streetscape Changes Proposed by Projects
In addition to compliance with Planning Code Section 138.1, a project may propose modifications to the public right-of-way. Reasons may include: mitigation measures required under the California Environmental Quality Act (CEQA); conditions of approval required by the Planning Commission; in-kind development agreements (where project sponsors direct impact fees towards capital improvements near their development); or, voluntary improvements to the right-of-way by a private entity.
Timing of SDAT Review
CEQA review must be conducted prior to a discretionary action being taken on proposed changes to the streetscape. In addition, early review and guidance is often essential to developing a feasible streetscape plan. Therefore, the Planning Department requires a project's proposed streetscape changes to be reviewed early in the entitlement process. SDAT typically reviews projects at the beginning of their entitlement process during the Planning Department's Preliminary Project Assessment (PPA) phase of a project. Projects generally return to SDAT at least once before they are approved administratively by the Department or are heard by the Planning Commission. Planning Department staff summarizes relevant SDAT comments into a letter that is distributed to the project sponsor, SDAT team-members and various other staff members throughout the City. For PPAs, SDAT comments are included with the PPA letter published by the Planning Department.
SDAT coordinates among city agencies to ensure streetscape improvements meet their respective review and approval requirements. The SDAT process provides an opportunity for concerns of other City departments regarding proposed streetscape changes to be considered by the Planning Commission and Planning Department staff prior a project's first approvals. Providing comments from multiple departments in one setting reduces the risk that City agencies will give conflicting feedback to project sponsors. In addition, providing comments early in the development review process reduces the risk that City agencies will require changes to previously reviewed streetscape designs later (i.e., after Planning approvals) in the development review process. Any changes to the public right-of-way approved by the Planning Commission, will still need to undergo subsequent review and approval processes by other City agencies including final approval from the Department of Public Works.