Sustainable Chinatown Initiative Receives National Planning Award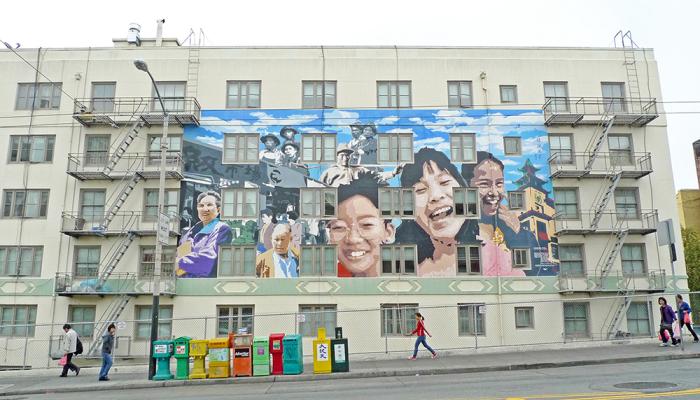 The Sustainable Chinatown Initiative, a cross-sector effort between the Chinatown Community Development Center (CCDC), San Francisco Planning Department, San Francisco Department of the Environment and Enterprise Community Partners in San Francisco, has received the American Planning Association (APA) Gold 2019 National Planning Achievement Award for Environmental Planning. The award honors efforts to create more sustainable and greener communities that reduce the impact of development on the natural environment and improve environmental quality.
A predominantly low-income community with a rich 150-year-plus history, San Francisco's Chinatown neighborhood is one of the last affordable neighborhoods in an increasingly expensive city and is threatened by mounting environmental and displacement challenges. Sustainable Chinatown began in 2014 as a collaborative to improve sustainability and resilience while protecting the community's unique culture and history, creating more affordable and resource-efficient housing, and improving access to public space and other services. 
"Chinatown is a community known for its deeply-rooted social institutions, cultural influence, and perseverance through periods of turmoil," said John Rahaim, director of the San Francisco Planning Department.  "This initiative is reflective of the neighborhood's closely-held values and traditions; a result of civic participation and philanthropic partners working together to preserve and strengthen the very things that define its common heart." 
Norman Fong, CCDC's Executive Director, added, "I am proud of the impact Sustainable Chinatown has had on our community. We have amazing partners in SF Planning, Department of the Environment, and Enterprise. At Chinatown CDC we believe in the 4 Ps—people, planning, place and power. Together we are empowering the people in Chinatown to plan for the future and care for the place we call home."
Current Sustainable Chinatown projects include the renovation of the Ping Yuen affordable housing developments (including water and energy efficiency improvements and a $1.5 million solar photovoltaic installation), community education on sustainability and resilience topics, efforts to introduce greening and stormwater infrastructure throughout Chinatown, and a proposed "Resilience Hub" to help the neighborhood prepare for climate change and other natural and man-made disasters. 
"The Sustainable Chinatown Initiative successfully integrates economic, social and sustainable planning practices," said Wendy Shabay, AICP, 2019 Awards Jury chair. "The initiative provides a vision for the future, but also ensures there is strong partner accountability." 
The final report for the initiative, Strategies for a Sustainable Chinatown, includes the following components:
Part I – Strategies for a Sustainable Chinatown: Six critical areas of work intended to complement the efforts of CCDC, other nonprofit organizations, and the city by maintaining affordability, sustaining Chinatown's unique culture, and improving environmental health and sustainability.
Part II – Sustainable Chinatown Dashboard and Baseline Assessment: An in-depth, innovative profile of environmental sustainability and demographic trends in Chinatown that can be monitored over time to track progress in meeting city and neighborhood goals.
Each year, APA recognizes outstanding efforts in planning and planning leadership through its National Planning Excellence and Achievement Awards. The two-tier awards are selected through a juried process. Excellence Award recipients are the highest honor and Achievement Awards recognize accomplishments in areas of specialization within the planning profession. The awards recognize outstanding community plans, planning programs and initiatives, public education efforts, and individuals for their leadership on planning issues for more than 50 years. 
Download the press release from the American Planning Association here.