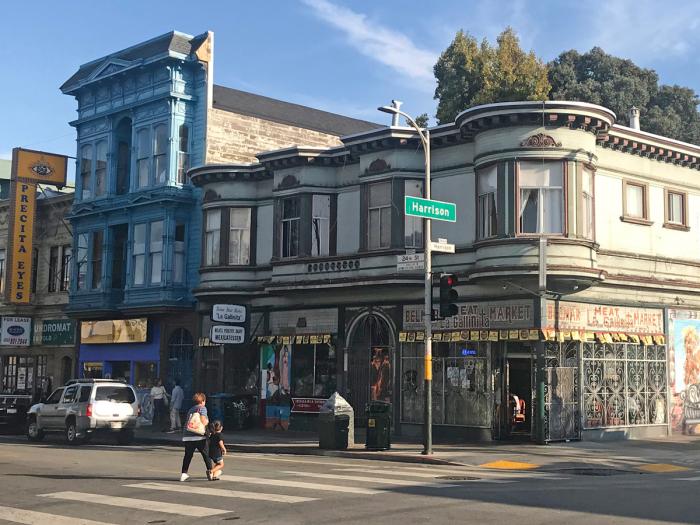 Citywide
Citywide Retail Strategy
Developing policies to support vibrant retail in San Francisco: where local businesses can grow, people have diverse employment opportunities, neighbors can do their daily shopping, visitors can find unique San Francisco experiences, while protecting Black, American Indian and people of color.
What is the Citywide Retail Strategy?
The Citywide Retail Strategy is one of many efforts currently under way in San Francisco to support neighborhood businesses and retail centers – find out about other efforts under the Supporting Info tab. Led by the Planning Department, the Citywide Retail Strategy will develop policies to support retail through COVID-19 recovery and in coming decades.
To support COVID-19 recovery, the Citywide Retail Strategy is focusing on business owners, patrons, employees of neighborhood retail, and particularly on Black, American Indian, people of color, and low-income populations that have borne disproportionate impacts from the pandemic.
The Planning Department is working with the Office of Economic and Workforce Development and other City agencies to:  
give businesses the flexibility to adapt to a changing retail landscape
support growing retail sectors
help residents meet their daily needs, particularly for vulnerable populations 
The COVID-19 recovery work builds on the Economic Recovery Task Force (ERTF). Convened by Mayor London Breed in summer 2020, this group of local business owners, residents, and policy experts developed recommendations for programs and policies that could support the city's recovery from the pandemic. Two ERTF recommendations focused on re-imagining spaces and the rules that govern them by supporting flexible use of ground floor retail spaces, and streamlining permit process, and eliminating unnecessary permits. 
To support long-term viability, the Citywide Retail Strategy is analyzing market trends, assessing existing policies, and engaging with business owners and residents about their goals for retail in the coming decades.
We are identifying existing policies that support businesses and the communities they serve, and policies that are create barriers or inequitable burdens in a changing retail environment. We are working to understand what neighbors and businesses value in their neighborhood. We are also looking at how downtown shopping may evolve in coming years, how much retail space is needed, and where.  
The Planning Department will work with businesses, neighbors, and policymakers to identify the specific challenges facing retail and develop solutions to make it easier to start or operate a business in San Francisco. The Department will also work to create solutions to equitably distribute growth so that businesses that serve marginalized communities are protected while promoting commercial corridor stability and vitality. Products will include changes to the Planning Code, programs, and an update to the Commerce and Industry Element of the General Plan.
What is Retail?
Retail includes businesses that provide goods and services directly to the public. This includes stores selling goods (such as shoes, groceries, or hardware); all types of restaurants and bars; personal services (such as barbers, gyms, dentists, or salons); and other services (such as banks or postal services). These are often referred to as "active uses" because they generate activity on the street and sidewalk as patrons come and go. Usually, these businesses are located on the ground floor and are clustered together in neighborhood shopping areas or other shopping destinations like Union Square. Sometimes these businesses are also located on upper floors, especially for businesses like dentists or doctors.
The Planning Code defines 32 distinct types of retail businesses that are regulated, but other businesses that generate activity, like Institutions (such as schools and churches), and Arts and Entertainment (like theaters or nightclubs), may also be permitted in the same areas where retail is allowed.
Decades of global commercial changes – from the rise of online shopping to the proliferation of discount and big-box stores – have fundamentally altered the retail sector. In the years prior to COVID-19, some of San Francisco's neighborhood retail was struggling. Consumer spending continued to move online, and vacancy rates were increasing. Neighborhoods lost some of their favorite businesses. The process for opening a new retail was complicated and could take months. 
The challenges of the COVID-19 pandemic have required businesses to adapt and to offer their customers new goods, services, and experiences in order to survive. Economic and planning policy needs to reflect the changing retail environment and provide opportunities for businesses to thrive in this new landscape, retain their employees, and for residents to be able to meet their daily needs close to home.
San Francisco's small businesses are integral to the economic fabric of the city because they are an important source of jobs and make vital contributions to our unique neighborhoods. The City has a history of supporting and protecting our locally grown businesses and to ensure that residents can meet their daily needs within a short walk, bike, or transit ride from home. Over the past 30 years, San Francisco has implemented several key policies that have shaped the retail landscape today.
Citywide Retail Strategy Values 
Working towards recovery and long-term outcomes that: 
Recognize equity may mean different end results for business owners, employees, and residents. Where there is conflict of interests, we will strive for balanced, equitable outcomes for all vulnerable populations. 
Reduce the cost, time, complexity, and process of permitting small businesses, particularly for Black, American Indian, and people of color 
Preserve and protect existing and support new neighborhood retail citywide, particularly essential retail  
Preserve and protect existing and support new culturally important retail that serves Black, American Indian, and people of color 
Support growing retail sectors, particularly for Black, American Indian, and people of color 
Pursuing a process that: 
Ensures all demographics are engaged, particularly Black, American Indian, and people of color 
Balances the urgency of reforms with the need for a thorough and equitable public engagement process 
Is clear and transparent about the benefits, downsides, and trade-offs of proposed policy changes  
Plans for and implements regulatory changes in tandem with programmatic supports 
Is based on data and analysis
Phase 1 (summer 2020-summer 2021)
Understanding the landscape: We will be collecting data to better understand the conditions prior to COVID-19 and what's happening now in our neighborhood commercial areas.  
Identifying key issues & goals: Based on recommendations from the Economic Recovery Task Force, and input from business owners and policymakers, we are focusing on several priorities to reduce process and increase flexibility for business.
Support legislation to ease the permitting process for neighborhood business. The Planning Department worked with the Mayor's Office to develop the Small Business Recovery Act to reduce bureaucracy in the business permitting process, increase flexibility for small businesses, and support arts and culture in San Francisco. The legislation was heard at the Planning Commission on April 22, 2021.
Listening to Stakeholders: Through surveys, focus groups, and meetings we want to hear from business owners, residents, and property owners about what they want to see in their neighborhood commercial areas. This engagement will focus on bringing in voices that have historically been excluded from planning processes with particular focus on the Cultural Districts and priority geographies.
Racial and social equity impact analysis: Changes always come with trade-offs, so we want to be sure to understand the benefits, burdens, and potential unintended consequences, particularly for Black, American Indian, people of color, and low-income populations.
Phase 2 (spring 2021 – spring 2022)
Building on the first phase, the second phase of the Citywide Retail Strategy will look at broader long-term policy questions about the current state of retail in San Francisco, from our neighborhood commercial corridors to downtown, to build more resilient communities and businesses in the coming years. This phase will also include an update to the General Plan's Commerce and Industry Element.
Where is retail allowed?  
Retail is permitted in several different zoning areas:  
Neighborhood Commercial (NC) districts are the commercial clusters and corridors throughout San Francisco that are usually surrounded by residential areas. There are 50 neighborhood commercial districts in San Francisco. Each of these NCs has different rules for what specific types of retail businesses or other active uses are allowed.  
Downtown San Francisco, which includes Union Square and the Financial district, has relatively liberal regulations of retail and active uses.  
Mixed Use districts, which are in SoMa and other parts of eastern San Francisco, also permit retail and other active uses.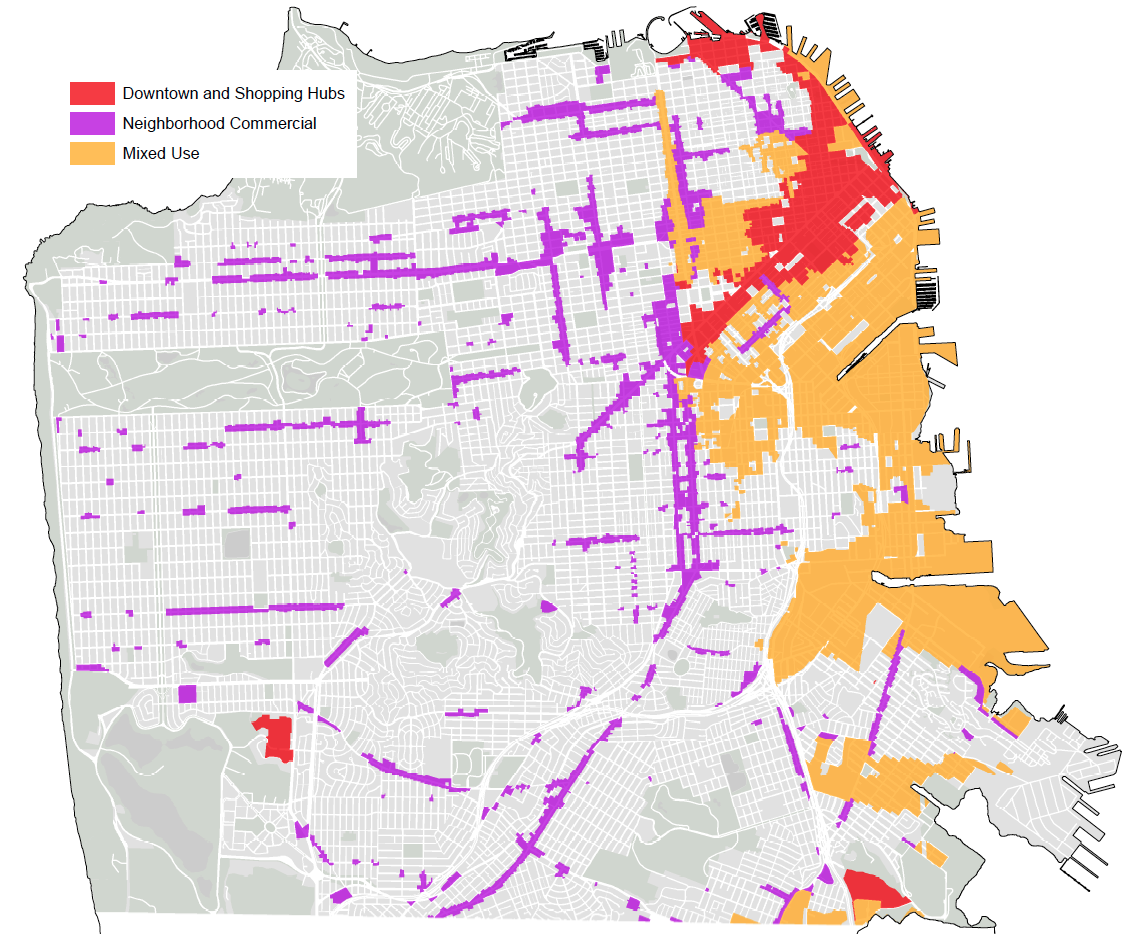 Questions or comments about the Citywide Retail Strategy?