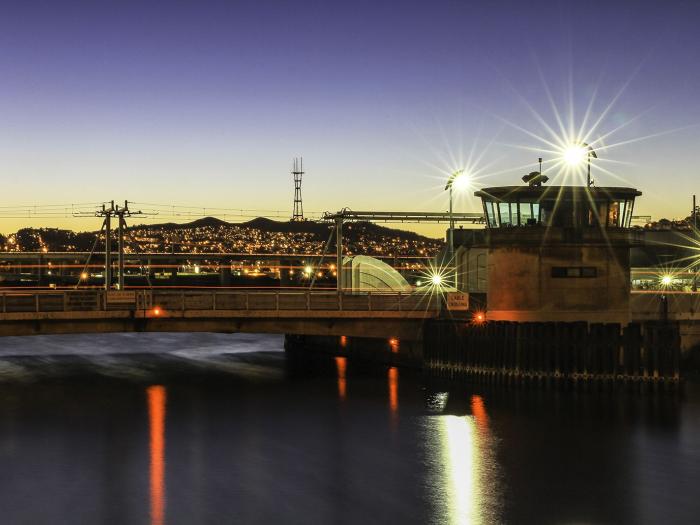 Bayview/Hunters Point
Islais Creek Adaptation Strategy
The Islais Creek Adaptation will develop a long-range vision for the Islais Creek shoreline that protects transportation infrastructure, enhances shoreline access and habitat, and nurtures community resiliency in adjoining neighborhoods. It will also identify implementable near- and mid-term investments that will build towards that long-term vision.
The Islais Creek Adaptation Strategy is a two-year community planning process in the Islais Creek area that will develop actionable strategies that address sea level rise and coastal flood risk through a robust public engagement process. Building on the Resilient by Design proposal and other city and regional efforts, the SMAS will develop a long-range vision for the Islais Creek shoreline, asset-specific solutions for public infrastructure, and a prioritized funding and implementation strategy that increases the resilience of the community and provides improved transportation networks and new open space.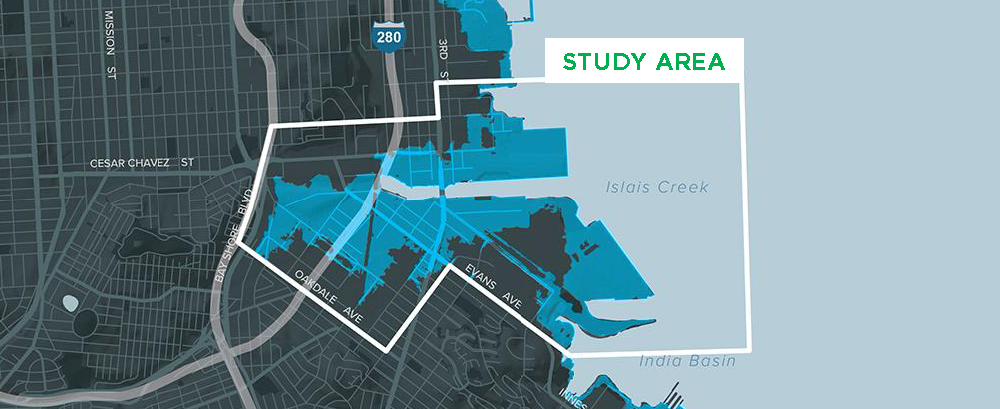 Background
A changing climate will have profound impacts on San Francisco's communities and its shoreline. To minimize climate impacts, we need to simultaneously reduce greenhouse gas emissions while preparing for future climate impacts such as sea level rise and coastal flooding.
Sea levels are anticipated to rise 6-10 feet by 2100 and over the next several decades, coastal flood events are projected to increase in frequency and extent. Addressing this climate risk requires urgent action now and will ultimately help to build a more resilient city.
Sea level rise poses a threat to San Francisco's neighborhoods and communities, critical shoreline infrastructure and the transportation system. One approach to building community resiliency is to begin the process of identifying vulnerabilities and developing robust strategies that address climate-related risks and vulnerabilities.
These changes will continue to increase flood risk and impact. The Port, SF Planning Department, and MTA are partnering with agencies at the federal and levels to study risks and needed improvements. Proactive planning will help ensure the safety of citizens and prevent serious damage to vulnerable waterfront communities and city infrastructure over the long term.
The two-year planning project will begin in early 2019 and will conclude at the end of the 2020.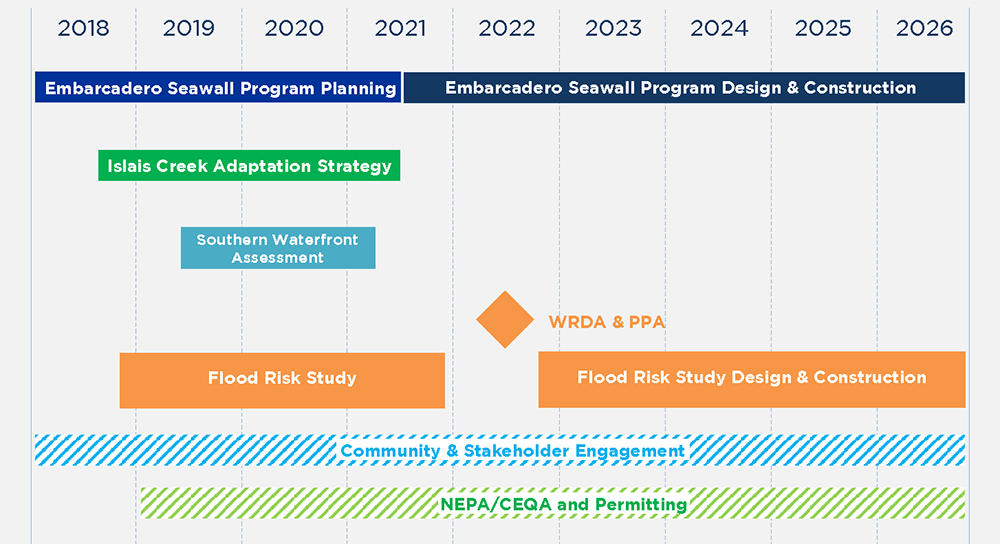 Materials from Community Meetings
For materials presented at previous community events, see Supporting Info tab
---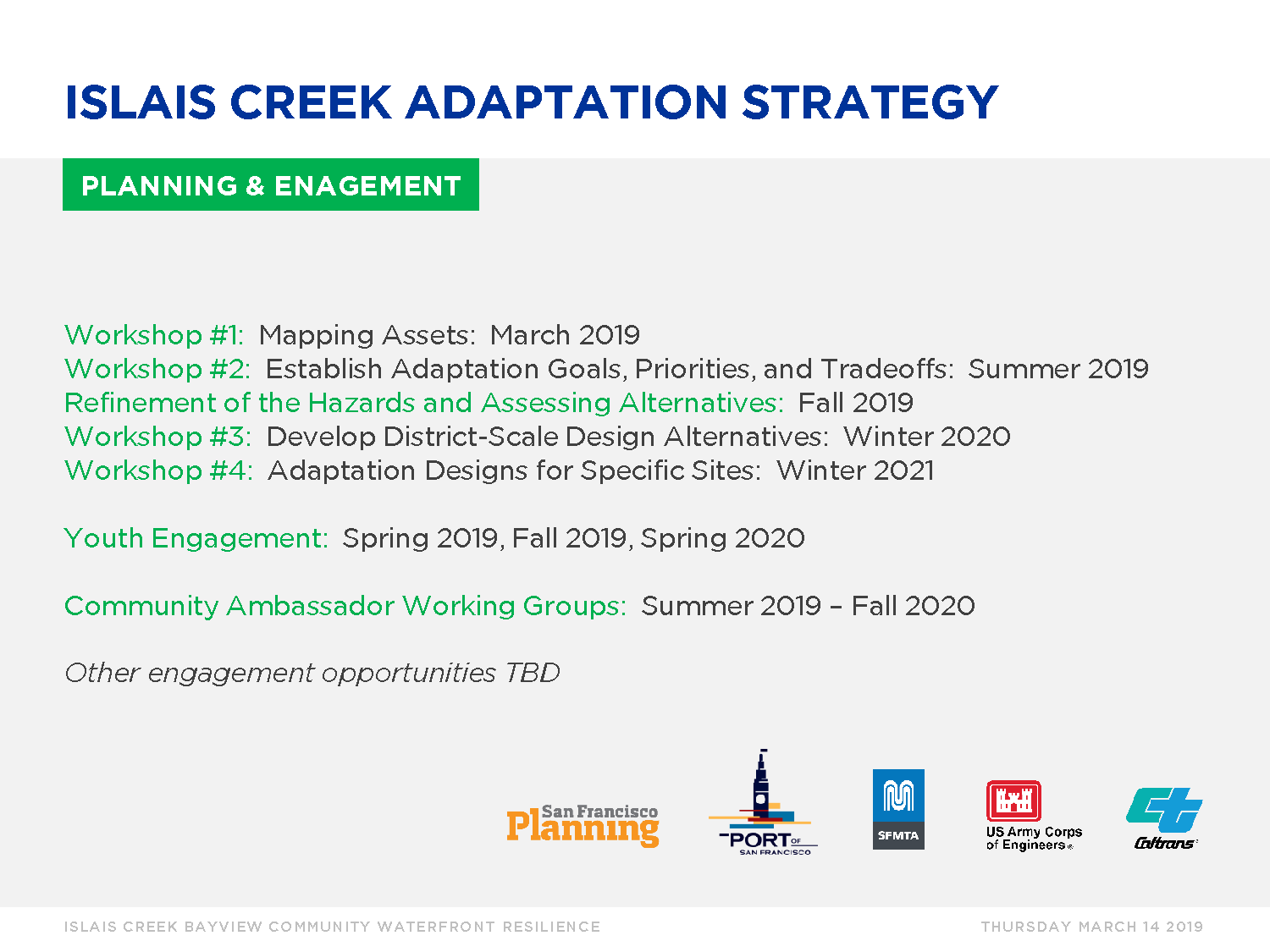 Robin Abad-Ocubillo
Senior Planner/Urban Designer
City Design Group