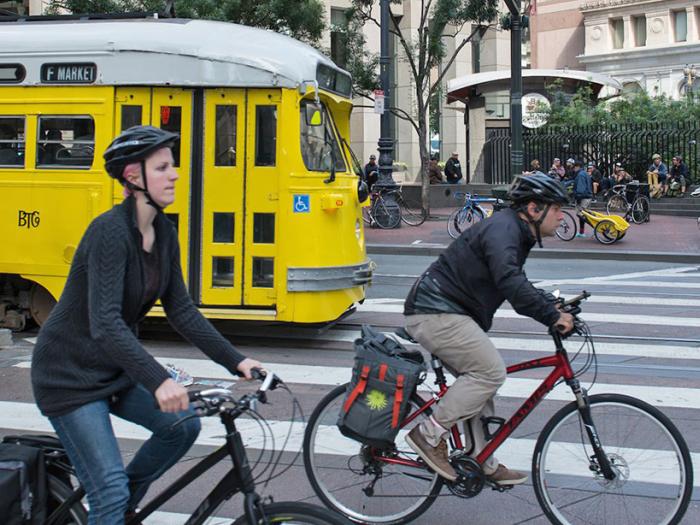 Citywide
Transportation Element
A part of the General Plan Updates
Moving about the city is essential for us to carry out our daily tasks, such as getting to jobs, as well for businesses to function. The Transportation Element sets the policy foundation for achieving a transportation system that involve the movement of people and goods. These policies will be centered on:
Achieving equitable outcomes: How can we advance racial and social equity through transportation policies?
Reducing greenhouse gas emissions: What types of transportation changes are needed for us to address climate change
Integrating transportation and land use: What kinds of transportation improvements should the City be making to meet current and planned growth of housing and jobs?
Other than transportation, what will the Transportation Element focus on?
The Transportation Element will address all transportation modes, how those modes interact in our city, and how those modes will enhance access to where people need to go. It will also address some of the most pressing issues that we face today, including:
Climate change – Transportation policies will be developed to help to the City reach its goal of 80% of all trips be taken on sustainable modes (such as transit and walking) and remaining trips be made entirely in electric-powered vehicles.
Racial and social equity – The Transportation Element will include policies that will result in equitable outcomes for low-income communities and communities of color.
Environmental justice – The Planning Department is developing an environmental justice framework for the General Plan, which will set the vision and guidance for environmental justice considerations that will be integrated into the Transportation Element.
Housing, jobs, and economic vitality – The City needs a reliable and efficient transportation system that can get people to and from their homes to jobs, services, and school. The system must also support people's movement within and around neighborhoods to experience the City's rich array of amenities, and support housing and job growth for existing and future generations.
Vision Zero and Transit First – Vision Zero aims to eliminate all traffic deaths and reduce severe injuries on city streets, which builds on the City's historic commitment to promoting alternative modes to driving in the City. This commitment is rooted in San Francisco's Transit First policy (1973) to provide safe and efficient movement of people.
State of Good Repair – We need to invest resources to maintain and repair our aging infrastructure (including roads, bridges, subways, sidewalks, etc.) so that they reliably serve people and businesses and can withstand climate impacts and natural disasters.
Why are we updating the Transportation Element?
The Transportation Element was last prepared and adopted in 1995. Since then, there have been significant changes in land use, travel behaviors, and preferences, as well as the types of technologies we have access to, such as bike share, scooters, carshare. At the same time, San Francisco has experienced growth in the number of people who live and work in the City, putting strains on the existing transportation system.
Not all of the policies in the existing Transportation Element have kept up with our current reality, and investments have not always resulted in safer, convenient, and affordable transportation options for everyone. We need to develop new policies and transportation networks that are linked to land use, that help the City manage congestion on its streets, and that enable equitable access to transportation options for everyone.
ConnectSF
The City has been engaging the public in a collaborative process called ConnectSF to build an effective, equitable, and sustainable transportation system. In 2018, staff collaborated with residents, community-based organizations, and agencies to create a vision of what they want San Francisco to look and feel like in 50 years, using ConnectSF's goals as the foundation. These goals are equity, economic vitality, environmental sustainability, safety and livability, and accountability and engagement. 
The vision that emerged from this yearlong effort was one of a growing, diverse, and equitable city. In the area of transportation, participants envisioned a multitude of reliable transportation options in San Francisco that are available and affordable to all. This multi-faceted transportation system would be planned and built in a timely manner – a result of strong civic and government engagement. 
The ConnectSF vision and goals will be reflected in the Transportation Element.
Timeline for Transportation
 
2020
2021
2022
2023
Key Project Milestones
Policy Development
 
 
 
 
 
 
Environmental Review
 
 
 
 
 
 
 
 
Policy Adoption
Community Engagement
 
 
Engagement - Phase 1
 
 
 
 
 
 
 
 
Engagement - Phase 2
 
 
 
 
We would love to hear from you! Your feedback will help us develop policies for the Transportation Element.
The first round of outreach activities will take place in Spring 2021.
Upcoming Events
Coming Soon!