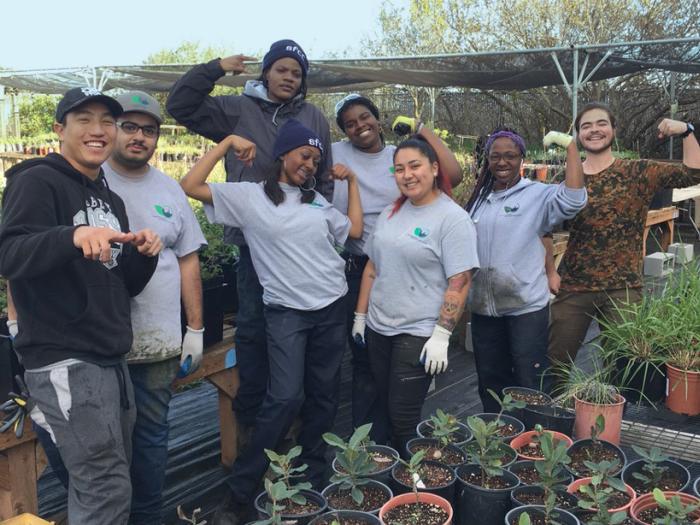 Environmental Justice Framework and General Plan Policies
A part of the General Plan Updates
Advancing Healthy, Sustainable, and Equitable Communities
San Francisco is working to ensure all residents and workers live in and enjoy healthy, clean environments. The City's environmental justice work will set clear goals and actions to advance health in communities of color and low-income communities that face higher pollution and other health risks. These City commitments will be developed in collaboration with communities and spelled out in an Environmental Justice Framework and related General Plan policies.
Have you or communities that you work in been impacted by environmental injustice? We want to hear from you! Please see the "CONTACT" tab and other sections for more information on how to get involved.
What Is Environmental Justice (EJ)?
Communities and governments have defined environmental justice in many ways. The Planning Department developed the following definition, which may be further refined during the community engagement process:
Environmental justice is the equitable distribution of environmental benefits and burdens to promote healthy communities where all San Franciscans can thrive. Government can foster environmental justice through processes that amend past injustices while creating proactive, community-led solutions for the future.
The term "environmental racism" recognizes that American Indian, Black, and other communities of color have historically borne the brunt of environmental burdens and poor health through intentional and systemically racist actions. These same communities have been devastated by the COVID-19 pandemic, as the social, economic, and health impacts of the disease have disproportionately impacted communities of color. Our environmental justice work is being coordinated with the Planning Department's Racial and Social Equity Action Plan.
Background
California Senate Bill 1000 requires that cities and counties adopt policies in their General Plan to address environmental justice. In response, the City is developing an Environmental Justice Framework to identify key goals and priorities and related General Plan Policies.
San Francisco is developing environmental justice policies in these areas:
Clean and Healthy Environments (Pollution Reduction)
Healthy Food Access
Physical Activity
Safe, Healthy and Affordable Housing
Equitable and Green Jobs
Healthy Public Facilities
Climate Resilience and Justice
Empowered Neighborhoods (Civic Engagement and Prioritizing EJ Communities)
Framework and General Plan Policies
The Environmental Justice Framework will outline a vision and goals to be incorporated into the City's General Plan. It will also include  guidance to City agencies and other stakeholders on how they can address environmental justice in their work.
In addition, the Planning Department is working to develop environmental justice policies that will be adopted in the San Francisco General Plan. The first such policies will be found in the Housing, Transportation, and Safety elements, which are currently undergoing updates.
This project timeline below is subject to change. Please see the "Engagement" tab for up-to-date information on public events.
Timeline for Environmental Justice Framework
 
Winter 2021
Spring 2021
Summer 2021
Fall 2021
Key Project Milestones
EJ Communities Map & Story Map
 
 
 
 
 
 
EJ Framework & Policies
 
 
 
 
 
 
 
 
Policy Adoption
Community Engagement
 
 
Environmental Justice Working Group (EJWG)
 
 
 
Youth Engagement: Balboa HS
 
 
 
 
 
 
 
Open House
 
 
 
 
 
 
 
Listening sessions & surveys
 
 
 
Learn More
Related Efforts
The draft Environmental Justice Communities Map describes areas of San Francisco that have higher pollution and are predominately low-income. This map is based on CalEnviroScreen, a tool created by CalEPA& OEHHA that maps California communities that are most affected by pollution and other health risks. This map includes additional local data on pollution and demographics, and will be refined during the community engagement process based on public feedback.
We want to hear from you! For more information on how to get involved in this project, or to share feedback and information, please get in touch with our team:
Project Manager
Lisa Chen, Senior Community Development Specialist
lisa.chen@sfgov.org
Project Team
Shelley Caltagirone, Cultural Heritage Planner
shelley.caltagirone@sfgov.org
Celina Chan, Transportation Planner
celina.chan@sfgov.org
Danielle Ngo, Resilience + Sustainability Planner
danielle.ngo@sfgov.org