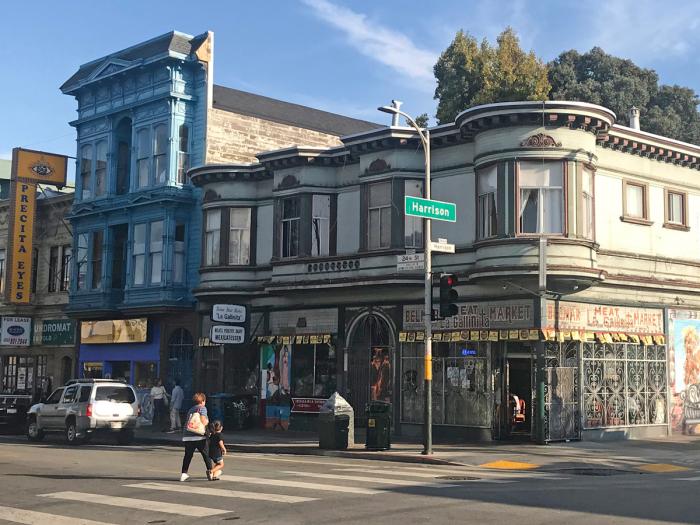 Mission
Calle 24 Special Area Design Guidelines
Project Status: Adopted | Estado del proyecto: Adoptado
The Calle 24 Special Area Design Guidelines (SADGs) are intended to work collaboratively with the City's Urban Design Guidelines, which require new buildings and exterior remodels adapt to surrounding areas and existing patterns of development. This document will be used by Planning design review staff and the Planning Commission to help evaluate proposed projects to ensure that the design elements respond to the unique characteristics of the Mission's 24th Street neighborhood. They are also intended to promote constructive conversations in the community about design by creating a set of expectations that have been agreed upon ahead of time. 
Crafting of the Calle 24 SADGs was led by Department planners and architects with support from the Office of Economic and Workforce Development (OWED). Community input was a critical element of this effort, and, in addition to public workshops, an 11-member Working Group representing a broad spectrum of local stakeholders, including residents, business owners, artists, service providers, non-profit developers, and for-profit developers, served a key advisory role for City staff.
For background information on this effort and a summary of key milestones, see FAQ and Timeline. 
Date
Materials
November 21, 2019
Planning Commission Adoption Hearing
Commission voted 5-0 to adopt the Calle 24 SADGs
October 29, 2019
Community Workshop #2
October 16, 2019
Community Working Group Meeting #3
 
July 18, 2019
Public Presentation to the Planning Commission
June 11, 2019
Community Workshop #1
January 29, 2019
Community Working Group Meeting #2
 
October 30, 2018
Community Working Group Meeting #1
 

Cronograma

21 de noviembre de 2019
Audiencia de Adopción de la Comisión de Planificación
29 de octubre de 2019:
Taller Comunitario #2
16 de octubre de 2019:
Sesión de Grupo de Trabajo de la comunidad #3
 
18 de julio de 2019:
Presentación Informativa a la Comisión de Planificación
11 de junio de 2019:
Taller Comunitario #1
29 de enero de 2019:
Sesión de Grupo de Trabajo de la comunidad #2
 
30 de octubre de 2018:
Sesión de Grupo de Trabajo de la comunidad #1
 
What are design guidelines and why do we need them?
Design Guidelines establish a set of goals, values, and qualities by which new development projects and exterior building remodels are evaluated during project design review. They are intended to create a common set of expectations related to design that can be used by neighborhood groups, the public, designers, property owners, developers, planners, and the Planning Commission. Guidelines are intended only to address how a building impacts and supports the character of the existing City fabric. They are not intended to change growth, height, land use, or transportation policy.
What is Design Review?
Design Review is a comprehensive evaluation process in which Planning Department staff architects evaluate a proposed project to ensure that it meets the City's existing policies and general principles of good design and neighborhood compatibility. These include:
Supporting a project's compatibility with the neighborhood scale and character;
Encouraging site and ground floor design to enhance San Francisco's walkable environment, and;
Encouraging architecture that is both reflective of its time and offers a sense of timeless presence for future generations.
Why are Special Area Design Guidelines proposed for Calle 24?
The Calle 24 SADGs have their origins in prior City policy and legislation. In 2014, the Board of Supervisors passed Resolution 168-14 establishing the Calle 24 Latino Cultural District, which recognized the unique cultural contributions of the Latino community in the Mission, particularly in the blocks south of 22nd Street. 
The Calle 24 Special Use District (SUD) was created in 2017 (Planning Code Section 249.59), which established a set of commercial controls that are intended to support the economic vitality of the Latino Cultural District. The SUD specifically calls for a set of design guidelines that support the policy goals and objectives articulated in the Latino Cultural District and the SUD related to the preservation of neighborhood character and recognition of Latino cultural heritage on 24th Street. 
The intent behind the Latino Cultural District and SUD coincides closely with the Mission Action Plan 2020 (MAP2020), which was initiated by community members and endorsed by the Planning Commission in 2017. MAP2020 established a strategy document that identified potential solutions to help reduce the community displacement pressures that have disproportionately impacted the Mission's Latino and working-class communities. MAP2020 is currently being implemented by the Planning Department in close coordination with community stakeholders and other City agencies. While design plays a limited role in directly addressing social and economic challenges such as community displacement, the Calle 24 SADGs can elevate the voices that are not traditionally present in the design process, and thereby help ensure the Latino Cultural District retains a physical embodiment in the built environment of the 24th Street neighborhood. 
Where do the Calle 24 SADGs apply?
The Calle 24 SADGs apply to Neighborhood Commercial (NC) and Neighborhood Commercial Transit (NCT) Districts roughly bounded by the Calle 24 Special Use District (SUD). This generally includes parcels fronting 24th Street between Bartlett Street and San Bruno Avenue and a limited number of parcels along 22nd Street, 23rd Street, 25th Street, 26th Street, and Cesar Chavez Street. They do not apply to residentially zoned R districts.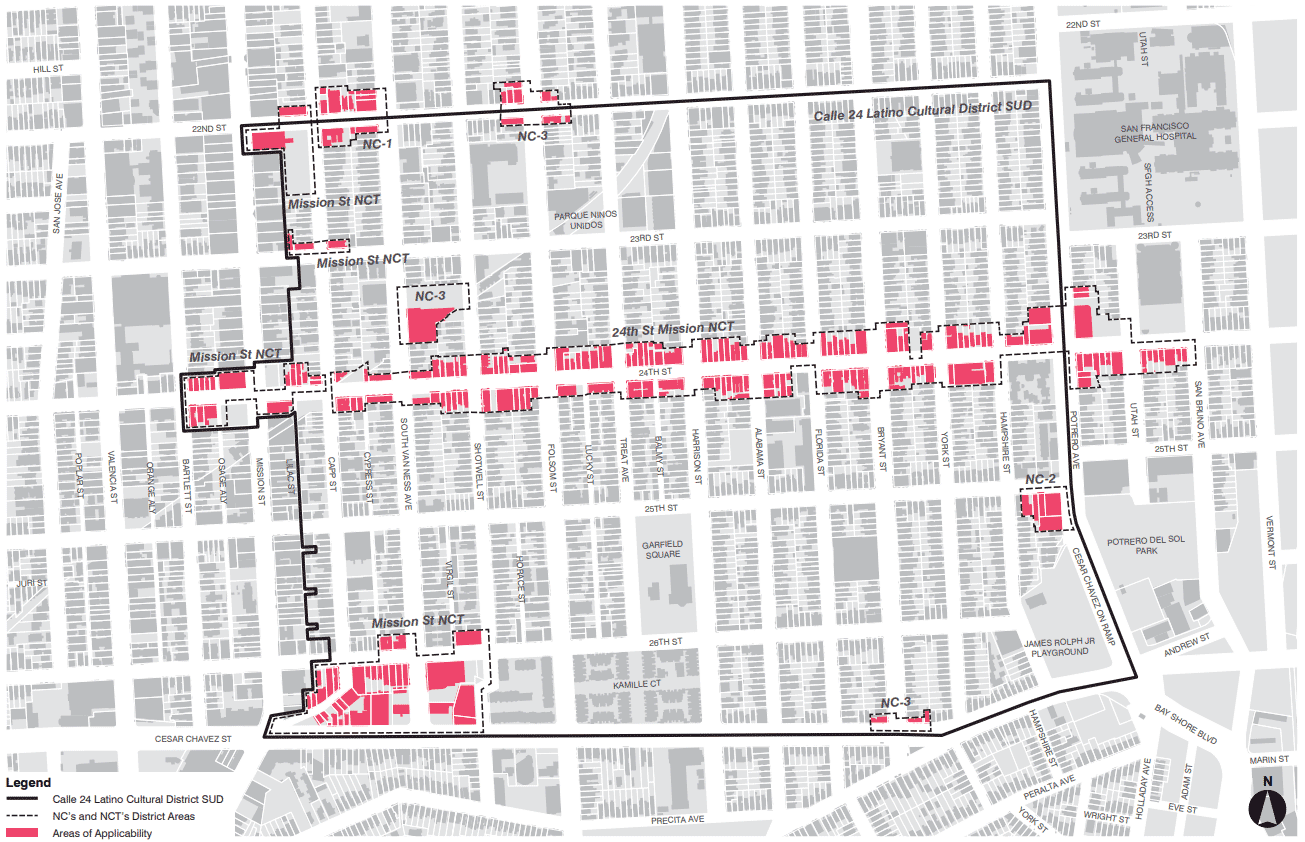 Calle 24 Special Area Design Guidelines Area of Applicability
View larger map here.
View or download the Calle 24 Special Area Design Guidelines