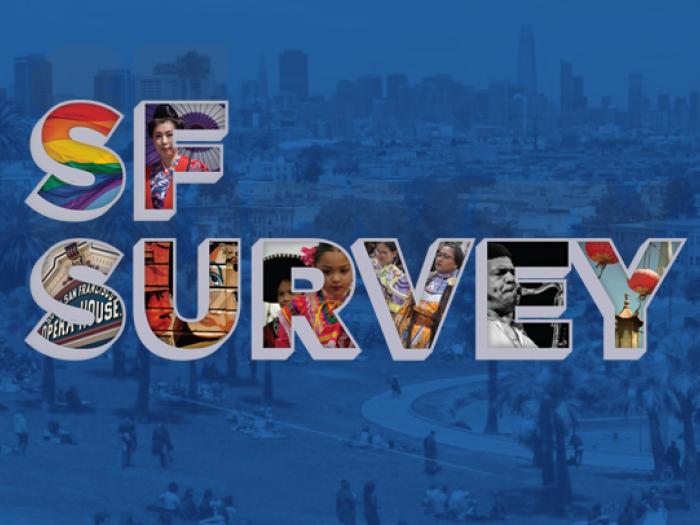 Citywide Cultural Resources Survey
The San Francisco Citywide Cultural Resources Survey (SF Survey) is underway! SF Survey aims to identify places of cultural, historical, and architectural importance, which will help protect the heritage and character of San Francisco. Cultural resources may also qualify for historic preservation incentives.
What is the San Francisco Citywide Cultural Resources Survey (SF Survey)?
SF Survey is a multi-year effort to identify and document places and resources of cultural, historical, and architectural importance to San Francisco's diverse communities.
What are cultural resources?
Cultural resources are buildings, structures, objects, sites, and districts that are culturally, historically, and architecturally important to our communities and the city.
In the past, historic preservation efforts have been focused on "tangible cultural resources" – buildings, sites, objects, etc. Discriminatory policies and programs, and a narrow approach to preservation have resulted in a shared built environment that is more likely to exclude the accomplishments and narratives of American Indian, Black, and other communities of color. Locally (and globally) efforts to center preservation in racial and social equity are aligning with a growing need to foster and sustain other manifestations of culture, including oral traditions and expressions; performing arts; social practices; rituals and festivals; and traditional crafts. SF Survey will partner with community-based cultural organizations to collectively honor, share, and celebrate the living qualities of heritage and the intangible aspects of our past that inform important spaces in our city. 
Why are we doing SF Survey? Why does it matter?
San Francisco is a culturally layered and dynamic place.
The transmission of knowledge across generations brings continuity to the way of life and culture of communities. A deeper understanding of our histories and the contributions of those who came before us enhances our collective sense of belonging and agency in our communities. By bringing people together through community events and programming, SF Survey will contribute to sustaining San Francisco's diverse cultures.    
The findings of SF Survey will help guide the Planning Department's work on future landmark designations, heritage-based initiatives, environmental review, new development projects, area plans, and building permit applications. Cultural resources may also qualify for protections and incentives.
Where and when are we doing the SF Survey?
Staff from the Planning Department will be gathering information in different neighborhoods throughout San Francisco from 2022 to 2026. Please refer to the Survey Map for our phasing, which is based on priorities for racial and social equity, existing and planned historic contexts, and staffing capacity.
How are we doing SF Survey?
SF Survey will be completed through five interrelated components:
Community Engagement

Citywide Historic Context Statement

Field Survey, Research and Evaluation

Findings and Adoption (at the Historic Preservation Commission), and

the culminating Cultural Resources Inventory
For the Field Survey component, our staff will be looking at the outside of buildings from the public right-of-way (such as streets and sidewalks) and will be wearing identifying gear. We will not ring your doorbell or ask to see the interior of your home. 
 
Presentations
Historic Preservation Hearings
SF Survey consists of the following interwoven components:
Community Engagement

Citywide Historic Context Statement

Field Survey, Research and Evaluation

Findings and Adoption (at the Historic Preservation Commission)

Cultural Resources Inventory
Components Schedule
Community Engagement
SF Survey will heavily rely on input from community members. Keeping with Planning's previous cultural heritage based-work, the Intangible Cultural Heritage Methodology, capacity-building, and implementing a multi-media approach to outreach, critical consultation with the community will be key for developing inclusive findings. Through this level of engagement, Planning will ensure that aspects of the City's history important to respective community groups are shared according to the wishes of those knowledge bearers. The Community Engagement Strategy Framework aligns with the Historic Preservation Commission's racial and social equity resolution, forging innovative civic partnerships to include and engage communities typically underrepresented in historic preservation.
Citywide Historic Context Statement
The Citywide Historic Context Statement, begun in 2020, forms SF Survey's foundation for decision-making by providing a comprehensive framework for identifying and evaluating San Francisco's historic and cultural resources. The outline of the Citywide Historic Context Statement, includes thematic, cultural, and architectural contexts. It builds upon the contexts in progress and completed over the years. Learn more about completed and in-progress context statements.
Field Survey, Research and Evaluation
Staff will gather and collect information, conduct research, and refer to the Citywide Historic Context Statement to determine historic resource status for all previously un-surveyed, age-eligible (45 years or older) properties across the city. In other words, staff will focus on turning properties with a Planning Department Historic Resource Status of "B – Unknown / Age Eligible" as indicated in the San Francisco Property Information Map to either "A - Historic Resource Present" or "C – No Historic Resource Present."
Survey efforts are three-fold: pre-survey, in-field, and in-office data collection. Individual buildings, objects, structures, and sites, along with cultural landscapes and districts will be evaluated and ultimately given a California Historical Resource Status Code for the California State Office of Historic Preservation.
Findings and Adoption 
Once the SF Survey team has determined status codes, staff will conduct outreach and present their initial determinations on potential individual resources and districts to the community followed by the Historic Preservation Commission (HPC). The HPC may elect to immediately adopt the findings with or without modifications, or they may take no action and direct the team to incorporate revisions or provide additional information. Once the HPC adopts the historic context statement and survey, the findings will be forwarded to the California Office of Historic Preservation and formalized.
Cultural Resources Inventory
All of SF Survey's components require consistent and streamlined management of information. To accomplish this, a customized web-based cultural resources management platform has been under development using Arches, a cultural heritage-focused data management platform. This robust tool will ultimately be used to not only collect and maintain the data both internally (staff) and externally (community engagement), but also to provide a public website for sharing the results of SF Survey and information gathered. The platform will serve as San Francisco's living Cultural Resources Inventory, the culmination of the SF Survey project. It is intended to allow for future additions and changes to the City's cultural resources over time.
This process is informed by the community, and helps the public, property owners, government officials, and those who do business in San Francisco, making environmental review more transparent. SF Survey findings will be reviewed and approved by the Historic Preservation Commission during the SF Survey finalization and adoption process.
Share Your Story
Everyone has a role in sharing and sustaining culture. If you see us in our identifying SF Survey gear, feel welcome to come out, meet us, and share any photos or memories that you feel are important to the story of your community, neighborhood, or San Francisco. We will be collecting information on our survey devices, or you can share by contacting us.