Permit Center at 49 South Van Ness
The Planning counter is located at the Permit Center, offering a centralized place for construction, special events, and business permits for our customers.
Permits are required in San Francisco to either operate a business or perform construction activity
The permitting process will vary based on your project. You may need to obtain permits from the Building Department, the Fire Department, the Health Department, the Department of Alcoholic Beverage Control, or other City and County of San Francisco agencies.
Depending on the scope of work and the zoning of your property, your project may be allowed. You can find information about what is specifically allowed in the various San Francisco Zoning Use Districts, including the zoning district of your property, by visiting the San Francisco Property Information Map (PIM).
Permit Types
Please select one of the groups below to start exploring more about your project or business.
Affiliated Agencies
San Francisco Public Works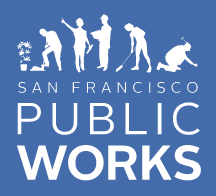 The 24/7 City agency cleans and resurfaces streets; plants and nurtures City-maintained street trees; designs, constructs and maintains City-owned facilities; inspects streets and sidewalks; builds curb ramps; eradicates graffiti; partners with neighborhoods; trains people for jobs; greens the right of way; and educates the SF communities.