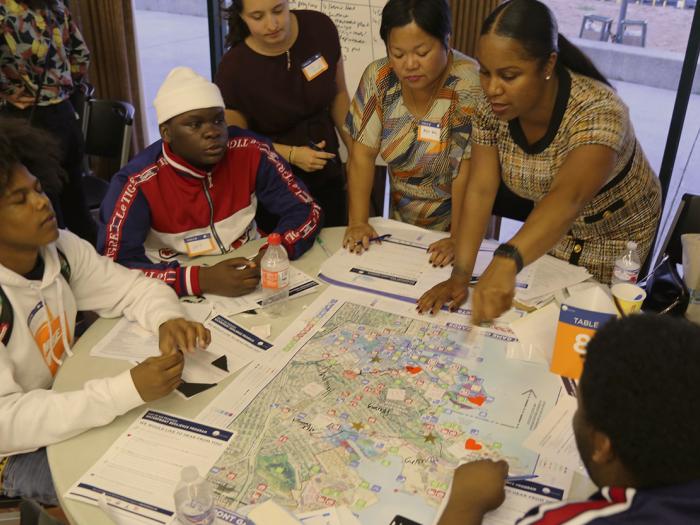 Activating Community Priorities
The 2022 Housing Element is San Francisco's housing plan centered on Racial and Social Equity. Its policies and programs provide a roadmap for future housing that meets community needs. 
During the next eight years, the City is focusing on the goals and actions in which the community advocated for:
Recognizing the right to housing as a foundation for health, and social and economic well-being.

Repairing the harms of racial and ethnic discrimination against American Indian, Black, and other people of color.

Fostering racially and socially inclusive neighborhoods through equitable distribution of investment and growth.

Providing sufficient housing for existing residents and future generations for a city with diverse cultures, family structures, and abilities.

Promoting neighborhoods that are well-connected, healthy, and rich with community culture.
SF Planning is partnering with Equity Communities, Cultural Districts, and City agencies to highlight the community-identified actions included in the Housing Element. This public participation process will encourage community planning that celebrates and strengthens the unique cultural and ethnic identity of San Francisco's communities.
Resources will be updated as materials become available. Please continue to check for updates.
What is a Priority Equity Community?
A Priority Equity community (or communities) are groups who are uplifted for resources, policies, and services to address their experience in social and health inequities. These communities have been or are currently chronically underserved by our systems and institutions and continue to be marginalized due to poverty, structural racism, or other factors.
Equity populations include but are not limited to, American Indian, Black and other people of color; low-income communities; recent immigrant and refugee communities; LGBTQIA communities; people whose first language is not English; and returning citizens who were previously incarcerated.
Partnering with Communities
SF Planning is partnering with following communities:
American Indian

Mission

Sunset

Bayview

Fillmore/Western Addition

SoMa

Japantown

Tenderloin
The desired outcomes of this project are to:
Broaden community awareness of the Housing Element and its community-identified housing priorities.

Support community planning by engaging Equity Community voices and the organizations that serve them.

Strengthen long-term community engagement in the implementation of housing policies, programs, and projects.
SF Planning will support community-led discussions with Equity Communities to prioritize affordable housing strategies. To build understanding and reduce obstacles to progress, additional government departments will assess feasibility and needed resources. Those departments include (but are not limited to):
Some strategies may require legislation and Planning Commission or Board of Supervisors consideration.
SF Planning will identify strategies in phases to support community-driven planning in achieving the City's housing, economic and land use priorities.
The timeline below is subject to change, please continue to check for the latest updates.
| Phase | Details |
| --- | --- |
| Spring 2023 | Engage and raise awareness of the Housing Element and its community-identified housing priorities. |
| Summer 2023 | Coordinate with community to uplift their priorities and strategies to City departments and policymakers. |
| Fall 2023 | Coordination and communication with City departments to assess needed resources and feasibility. |