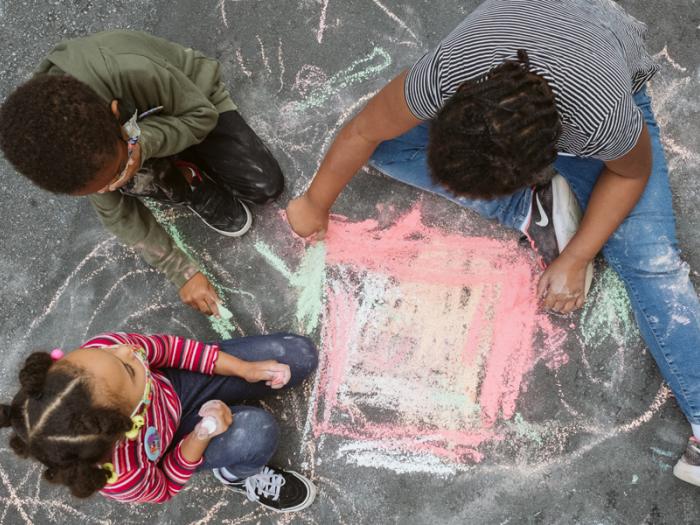 Tenderloin Community Action Plan
The Tenderloin Community Action Plan is a neighborhood-driven collaboration between residents, community organizations, businesses, and City agencies. The Plan will identify current needs for the neighborhood's diverse culture and population, and develop a collective vision for Tenderloin's future. It will also develop an action plan for the following priorities identified by the community: housing and homelessness, open space, health and wellness, transit and mobility, economic development, arts and culture, and environmental justice.
The Tenderloin Community Action Plan aims to meet the needs of the neighborhood's diverse and vulnerable population including the Black, American Indian, Latinx, Asian Pacific Islander, Middle Eastern/Arab and other communities of color; low-income; people living with disabilities; seniors; families and youth; LGBTQ+; and, unsheltered residents.
Map of the Tenderloin Community Action Plan Boundaries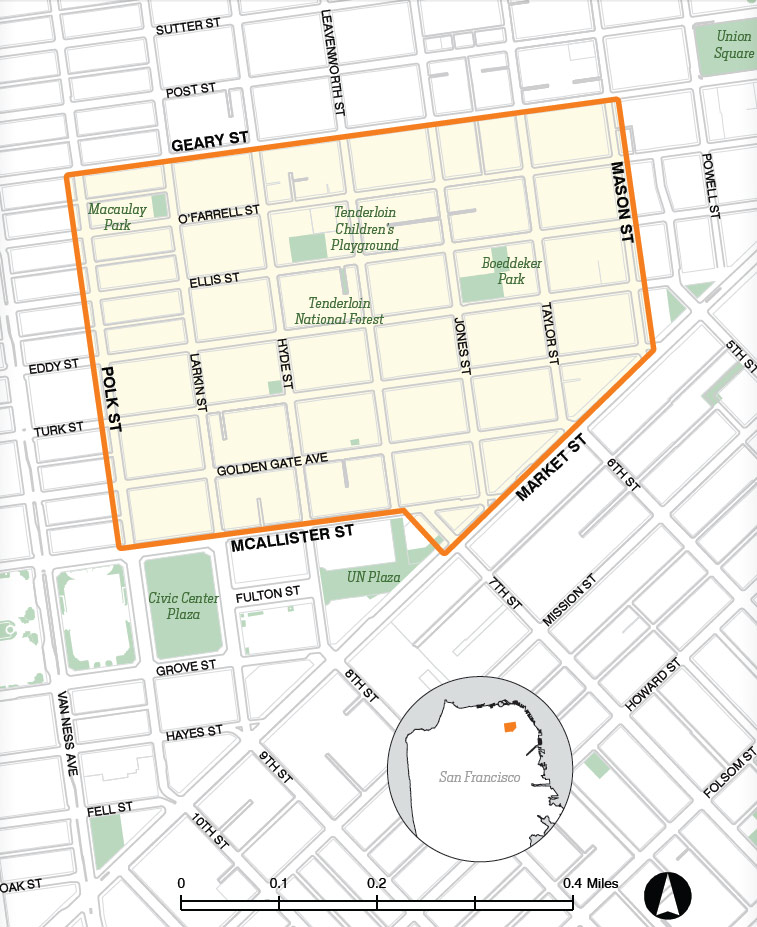 Note that the map does not include Civic Center and UN Plaza since these spaces are included in the Civic Center Public Realm Plan and the Civic Center Initiative, among other efforts. 
Neighborhood Map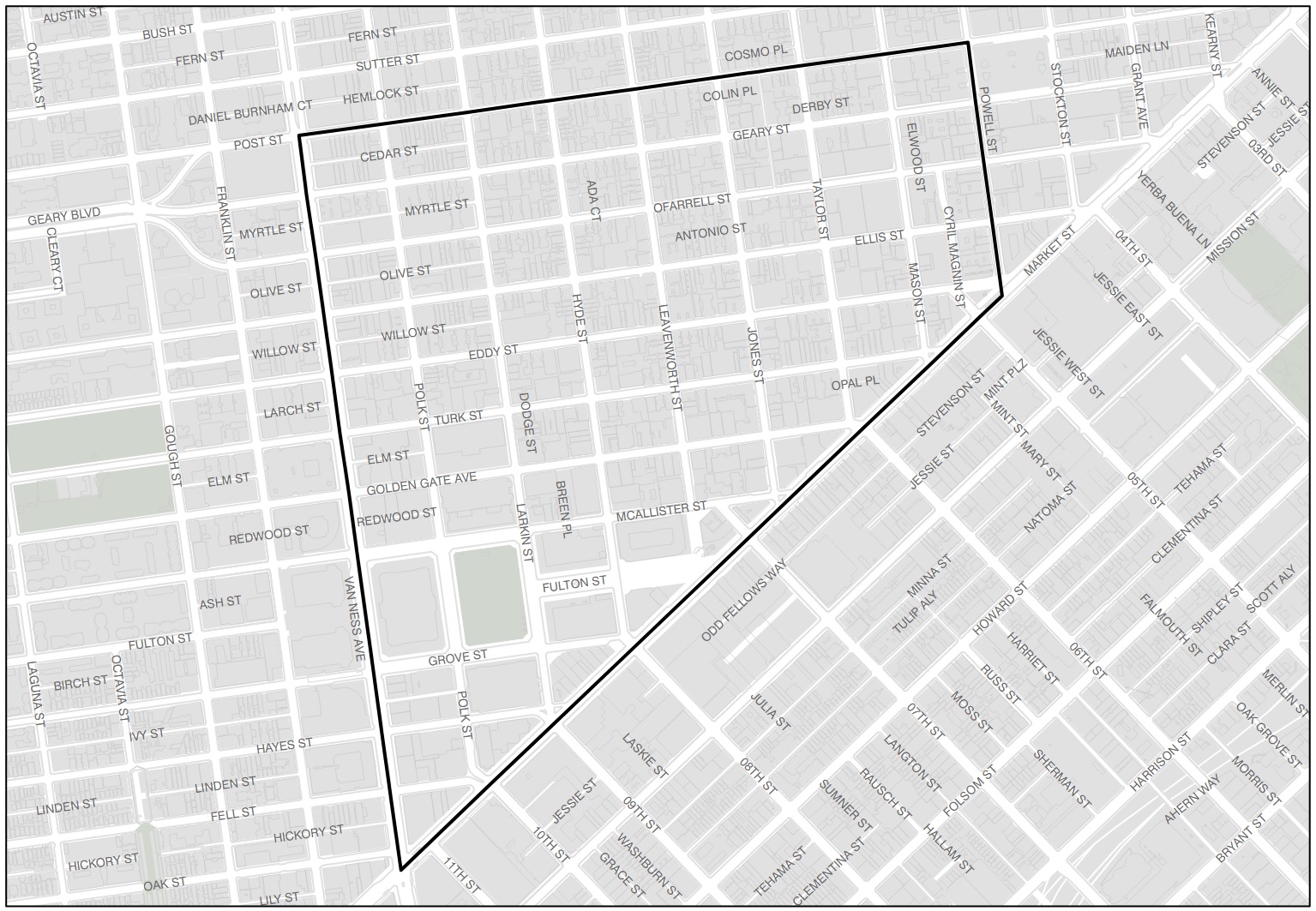 Documents
Related
In the News
The Tenderloin is a unique neighborhood with a range of perspectives, with the highest density of children in the city, and high concentrations of communities of color, seniors, people living with disabilities, artists, and community-based organizations and merchants. The neighborhood has long been a refuge for immigrants and the LGBTQ+ communities.
The Tenderloin has a long-standing history of activism and resiliency. The Uptown Historic District, the nation's first Transgender District, North of Market Special Use District, and the Hotel Conversion Ordinance are a few examples of community-based efforts that preserve and protect affordable housing and tenants and celebrate the neighborhood's diversity. Today, several community organizations and residents are continuing this tradition. Highlighting one of these achievements, the Tenderloin People's Congress engaged over 1,200 community members in a conversation envisioning the neighborhood's future in 2017, which resulted in the Vision 2020 Plan and sparked advocacy for the creation of the Tenderloin Community Action Plan.
Partners
We are collaborating with community-based organizations in the Tenderloin and City agencies that manage and administer work in the neighborhood.
Community-based Organizations
Tenderloin People's Congress
Tenderloin Community Benefit District
Central City SRO Collaborative
Boys and Girls Club
Code Tenderloin
Urban Alchemy
The Healing Well
Faithful Fools
Glide
Downtown Streets Team
Tenderloin Housing Clinic
St. Anthony's
HomeRise 
Block Safety Groups 
Southeast Asian Community Center 
Chinatown Community Development Corporation 
San Francisco Community Health 
Tenderloin Merchants Association 
Transgender Cultural District
Tenderloin Neighborhood Development Corporation
WalkSF 
Bicycle Coalition 
Hospitality House
City Agencies and Offices
District 6 Supervisor's Office
Department of Public Health
Department of Public Works
Office of Economic and Workforce Development
Department of Homelessness and Supportive Housing
Healthy Streets Operations Center
San Francisco Municipal Transportation Agency
Mayor's Office of Housing and Community Development
Recreation and Parks Department
Fire Department
Police Department
Planning Department
We Need Your Input!
Community planning has the best outcomes when people with a broad range of perspectives and experiences contribute to the conversation.
We want to hear from you!
The following outlines the project's schedule:
Completed in Fall 2020 – 
Organize
Identify stakeholders
Develop schedule and key dates
Winter/Summer 2021 – 
Share, Learn & Vision
Engage with community members
Collect background information/research
Identify Key Issues and Priorities
Develop guiding principals
Fall 2021/Winter 2022 – 
Explore Strategies
Develop and evaluate strategies and tools with community and City agency partners
Spring/Summer 2022 – 
Finalize
Prioritize strategies and actions
Review draft action plan
Beginning Summer 2022 – 
Implement
Collaborate with community and partners to implement strategies and action plan