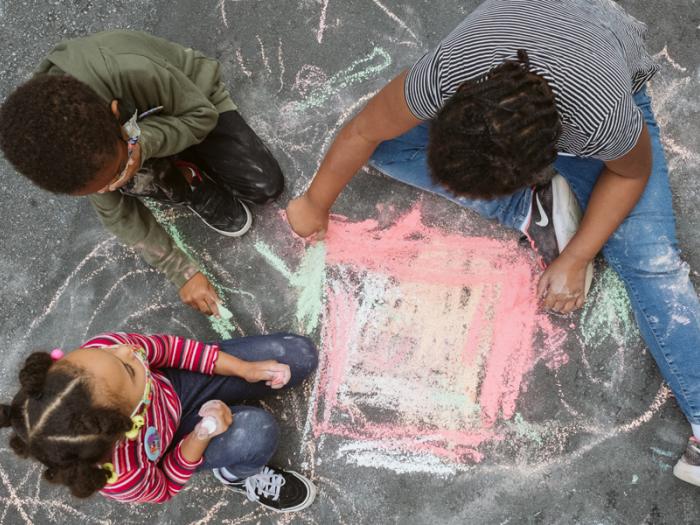 Tenderloin Community Action Plan
The plan for San Francisco's diverse and inclusive Tenderloin neighborhood.
Save the Date! Join us on October 5, 2023 from 5:00 - 6:30 p.m. for a community event at the Kelly Cullen Center, 220 Golden Gate Ave, San Francisco, CA 94102. Learn more.
Announcing 2023 Tenderloin Community Planning Initiatives in the newsletter!
Background
The Tenderloin is a unique neighborhood with a range of perspectives, with the highest density of children in the city, and high concentrations of communities of color, seniors, people living with disabilities, artists, and community-based organizations and merchants. The neighborhood has long been a refuge for immigrants and the LGBTQ+ communities.
The Tenderloin has a long-standing history of activism and resiliency. The Uptown Historic District, the nation's first Transgender District, North of Market Special Use District, and the Hotel Conversion Ordinance are a few examples of community-based efforts that preserve and protect affordable housing and tenants and celebrate the neighborhood's diversity. Today, several community organizations and residents are continuing this tradition. Highlighting one of these achievements, the Tenderloin People's Congress engaged over 1,200 community members in a conversation envisioning the neighborhood's future in 2017, which resulted in the Vision 2020 Plan and sparked advocacy for San Francisco Planning to embark on a  Tenderloin Community Action Planning process in 2021.
On December 17, 2021, Mayor Breed declared an official 90-day State of Emergency in the Tenderloin, allowing the City to waive certain laws to more quickly respond to the conditions relating to the health and safety of the people in the neighborhood. As the operational lead, the Department of Emergency Management (DEM) drafted the Tenderloin Emergency Initiative (TEI). The TEI is a three-phase plan that outlines an initial assessment of conditions, crisis operations, and plans for sustained operations in the Tenderloin to help stabilize conditions on the street.
As the TEI transitioned from crisis response operations to sustained operations over the course of the year, San Francisco Planning was asked by community members to incorporate this third phase of TEI's sustained operations into the Tenderloin Community Planning effort. At the same time, Mayor Breed allocated $4  million to the Planning Department to fund community-sponsored projects to improve living conditions for Tenderloin residents. 
A full reflection by San Francisco Planning on City and community collaboration in the Tenderloin in 2022 can be found here. 
Tenderloin Community Action Planning
The Tenderloin Community Action planning effort is a neighborhood-driven collaboration between residents, community organizations, businesses, and City agencies. Participating residents, community-based organization representatives, and small businesses will identify current needs for the neighborhood's diverse population, develop a collective vision for Tenderloin's future, then develop an action plan for top priorities identified by the community. These priorities include housing and homelessness, open space, health and wellness, transit and mobility, economic development, arts and culture, and environmental justice.
The effort aims to focus on the needs of the neighborhood's diverse and vulnerable populations, including: 
Black 
American Indian 
Latinx 
Asian Pacific Islander  
Middle Eastern/Arab   
Other communities of color  
low-income people 
people living with disabilities
seniors 
families and youth 
LGBTQIA++ 
unsheltered residents 
Our list of community partners are always growing and you can find some of them here.
Documents
Community Action Projects
In 2022, Mayor Breed's approved $4 million for community-driven projects in the Tenderloin, an unprecedented dedication of resources resulting from years of community organizing. San Francisco Planning led a first-of-its-kind participatory budgeting process to program these funds with 1,400 residents and workers voting on community-sponsored proposals. The selected Community Action Projects aim to enhance public spaces, promote cultural events, support youth, and enhance wellness and access to essential needs in the Tenderloin. These projects make up the first Community Action Grant cohort and will be implemented from summer 2023 to spring 2025 through interagency and cross-sector collaboration that includes San Francisco Planning, Mayor's Office of Housing and Community Development, Office of Economic Workforce Development, Department of Public Health, Human Services Agency, United Way Bay Area, as well as community leaders and entrepreneurs in the Tenderloin. A full detailed description of the participatory budgeting process including various steps of outreach and engagement is documented here. The results of the process were first announced in February 2023. A comprehensive brochure of the selected projects is also available here.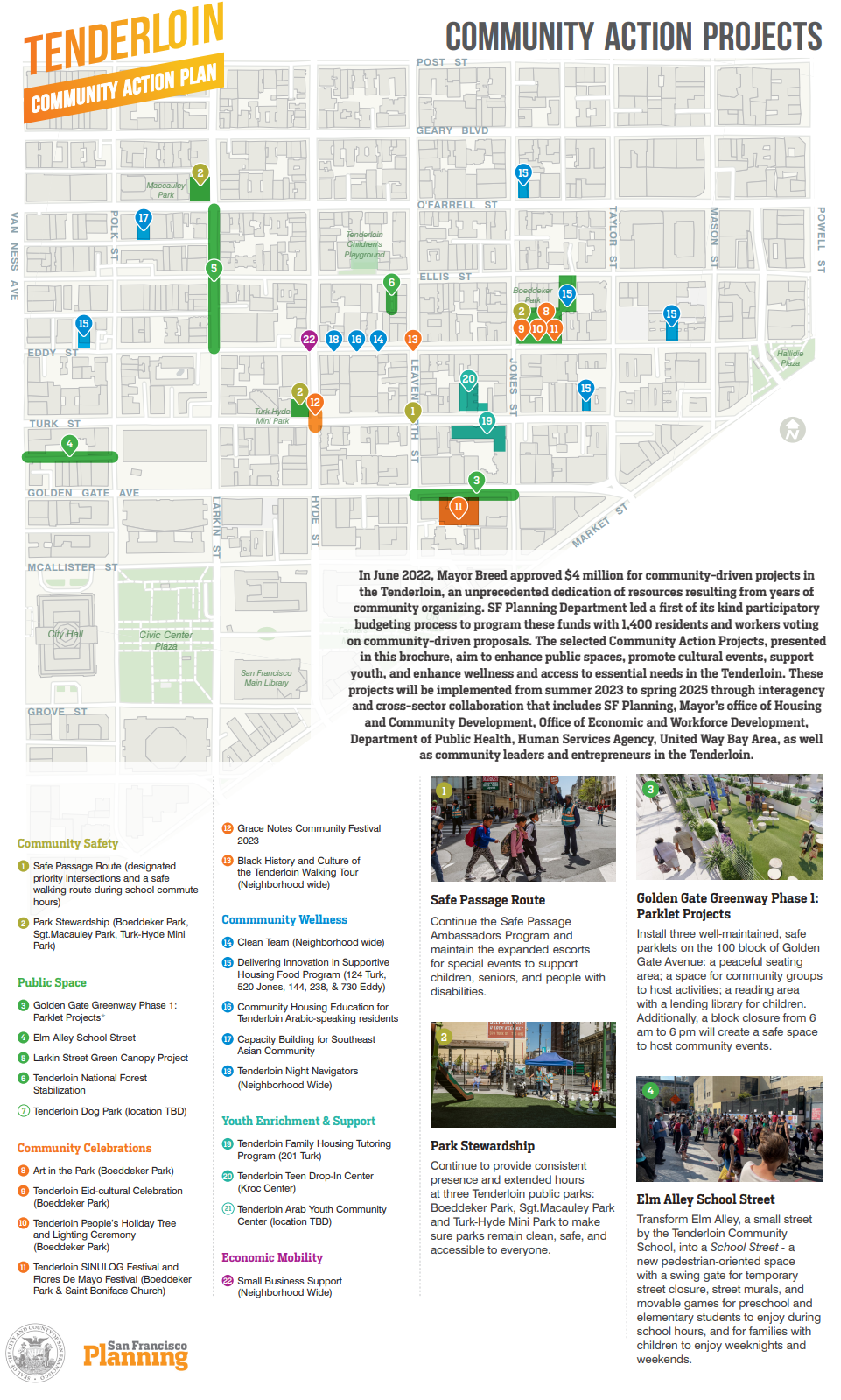 Collaboration for Collective Impact
Each individual project selected as a Community Action Grant recipient contributes to capacity building within the Tenderloin, bringing unique, creative, or essential projects to the neighborhood. Together as a cohort, project sponsors are collaborating across project categories, leveraging organizational resources and experience to build collective impact. Collective impact translates to better outcomes and deeper impact achieved because of synergistic developments within the cohort. Collaboration for collective impact within the Community Action Grants cohort is grounded by regularly recurring cohort meetings. The first collective impact meeting of the cohort occurred on May 24, 2023. Community project sponsors shared their collaborative commitment to each other and the Tenderloin. A Resource Packet for Collaboration for the Community Action Projects Cohort is available here.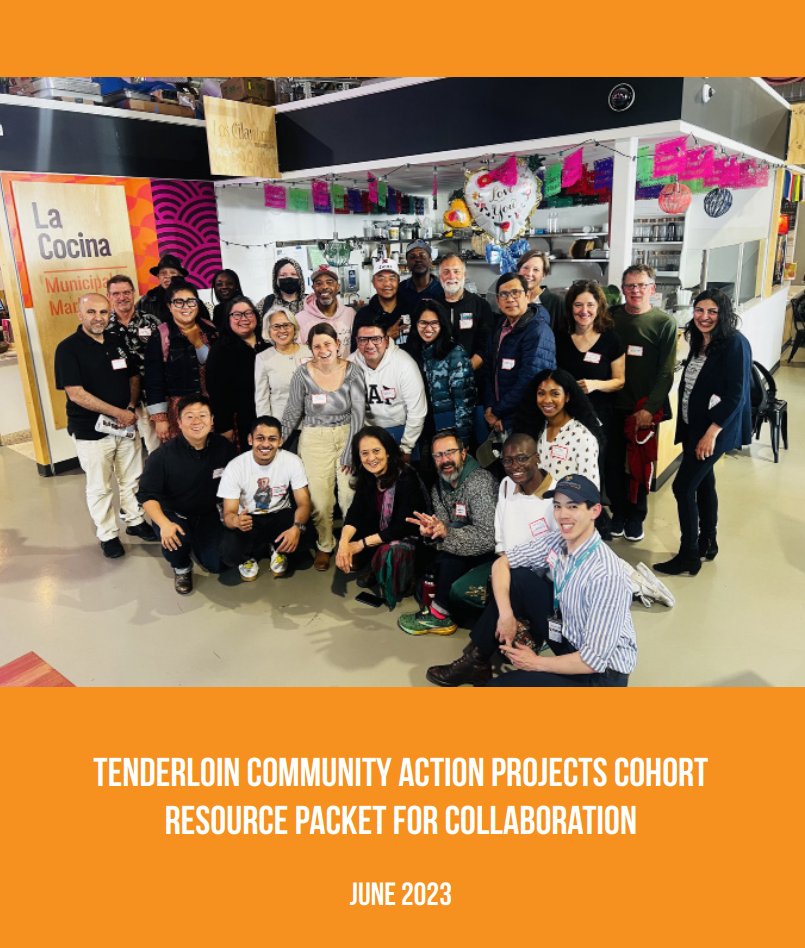 San Francisco Planning is partnering with Tenderloin Neighborhood Development Corporation to support the development of a unified voice advocating for practical solutions, effective strategies and investments: a community leadership group. With support from expert consultants, as well community partners, and robust public engagement a final framework of this community leadership group will be developed. The framework will chart the path to establish a community leadership group by the end of 2023.
This effort is pursuing San Francisco Planning's community stakeholder group discussions in the Fall of 2022. After the first few meetings of a Community Stakeholder Group (see Get Involved! tab), key stakeholders requested a re-thinking of its purpose and goals. The goals and structure of the Community Stakeholder Group (CSG) were grounded in an initial framework developed in Fall 2022. As a result of feedback on the CSG through several community discussions, San Francisco Planning developed a new, draft framework for a reconstitution of the CSG early in 2023. Meeting notes from the review of this draft framework by key stakeholders can be found here.
Years of engagement and outreach within the Tenderloin toward the development of the Tenderloin Community Action Plan enabled clear communication about community priorities for actions and investments in the neighborhood. These priorities have been distilled into four main Priority Areas: small business support, youth investments, public space and pedestrian improvements, and housing. 
Small business
In collaboration with the Mayor's Office of Economic and Workforce Development (OEWD), to fund small business grants in the neighborhood.  This priority reflects the community's voting results during the Tenderloin participatory budgeting process, as part of the Tenderloin Community Action Plan, to build upon and increase resources for small businesses. Planning will work with OEWD to shape these funding programs, so they may result in a collective impact for the Tenderloin.
Youth investments
In collaboration with the Department of Children, Youth, and their Families (DCYF), as they roll out a new five-year funding cycle for children, youth, transitional age youth (TAY) and their families later in July. The Tenderloin has one of the highest concentrations of children and youth in San Francisco, especially from immigrant families. The open-air drug market and use on the streets of the Tenderloin leave youth more vulnerable and exposed to the drug scene at the margins.  In conversations with youth providers and experts, we have learned that investing in youth, and especially disconnected youth, in the Tenderloin may require elevating certain priorities. Through this partnership, our team will facilitate a neighborhood-specific analysis of gaps and priorities for youth investments to support DCYF in decision-making for program grants awarded to serve Tenderloin children, youth, TAY, and their families.
Public Space and Pedestrian Safety
In collaboration with the community-led Pedestrian and Traffic Safety Task Force, this effort will identify priority opportunities and strategies to articulate and advocate for further investments in streetscape, open space, and traffic safety improvements in the Tenderloin. This partnership aims to help transform the current ad-hoc approach to public space design and advocacy into one that is based on assessed needs and ideas defined by pilot projects, community conversations, and interagency coordination. Preliminary strategic areas could be: creating an alley system, design a road diets network, promote strategic quick-build projects, develop a creative plan for public space maintenance, and, finally, draft a long-term vision for an open space network connected by safe and clean streets.
Housing 
As the City focuses on implementing the City's adopted Housing Element, the Tenderloin team will partner with the community to activate housing priorities including planning for improving SRO conditions, addressing vacancies in supportive housing, and facilitating housing with advanced treatment options.  
Street Conditions Progress
The Joint Field Operations (JFO) is a multi-departmental effort to improve street conditions in the Tenderloin neighborhood of San Francisco. The JFO began in January of 2022 in response to the Tenderloin Emergency Initiative. At the time, the JFO was intended to be a short-term approach to supporting individuals experiencing homelessness or struggling with substance use disorders to access resources and treatment and the Tenderloin Center (TLC). Upon the closure of the TLC, the JFO became an ongoing approach to service-linkage with a continuing component of street cleaning. The JFO functions seven days per week from 9:00 a.m. – 1:00 p.m. and is staffed by many city departments including the San Francisco Fire Department, SF Department of Homelessness and Supportive Housing, Department of Public Health, San Francisco Municipal Transportation Agency, San Francisco Public Works, San Francisco Police Department, and the Department of Emergency Management.
You can learn more about the geography of JFO activity and view the monthly schedule here. 
In March 2023, the Department of Public Health launched a reconfigured neighborhood-based street response team called Bridge Engagement Services Team (BEST) Neighborhoods. The team provides trauma-informed behavioral health assessment, engagement, and community-based therapeutic interventions 7 days a week, with a focus on clients who are unhoused, diagnosed with serious mental illness and/or substance use disorder, and who are disconnected from the health care system.  BEST Neighborhoods currently has two teams working primarily in the Tenderloin, SoMa, Mission, Castro, and Haight Ashbury areas.   The team is currently ramping up staffing and will eventually provide services in neighborhoods across San Francisco.  
San Francisco Planning's Tenderloin team is committed to serving as a stronger conduit to elevate community priorities in addressing the street conditions in the neighborhood. The team will work to empower the community to better understand progress on the streets, including the revamp of the data dashboard. Additionally, the team hosts conversations bridging between community and interagency partners to shape strategies of street operations. Check out the Get Involved Tab for Community Meetings.
Community planning has the best outcomes when people with a broad range of perspectives and experiences contribute to the conversation. 
The Tenderloin team will be working with community partners to host community conversations to engage Tenderloin residents and neighborhood groups in ongoing initiatives.  
To receive the Tenderloin Team newsletter, please sign up for email delivery. Past Newsletters can be found below:
Community outreach and engagement for Tenderloin community action planning effort will include: 
Quarterly community meetings and listening sessions
Targeted community partnerships and engagement for each priority area
Community Action Projects Cohort quarterly collaboration meetings 
Public discussions to vet a Community leadership group framework
Community leadership group (once established) monthly meetings
Community Meetings
Beginning in July 2023, the Planning Department, in collaboration with community partners, will be hosting quarterly community meetings to update and engage the neighborhood on initiatives in the Tenderloin.
Past Meetings

During 2022, San Francisco Planning partnered with Tenderloin resident groups to facilitate a Community Stakeholder Group, an open and diverse group of residents and community stakeholders.

Tenderloin residents, community-based organizations, and small businesses collaborated in the Community Stakeholder Group's (CSG) monthly meetings to direct a community action plan and the city's implementation of that plan. After a few meetings and major contributions to participatory budgeting processes, key stakeholder requested a rethinking of the purpose of the group to deliver a unified voice. The community was loud and clear that the purpose of a community leadership group needs to be intentional, the representatives should be diverse, and that the group function in partnership with the city. The Community Stakeholder Group is currently on hiatus. Meetings for a new community leadership group will convene after revising the purpose and goals of a community leadership group through a public process.

Past Community Stakeholder Group Meetings

Hybrid meetings were held monthly from 5:30-7pm on the 3rd Thursday of the month. Hybrid meetings included online access and in-person meetings at neighborhood community spaces.

2022, September 15 2022, October 18 2022, November 17

Governance Structure Working Sessions

2023, January and February

Other Meetings and Events

Participatory Budgeting Workshops
November 10, 2022 – In-Person at Boeddeker Clubhouse
November 3, 2022 – Online

Planning Commission
October 20, 2022

Community Conversations
October 5, 2021