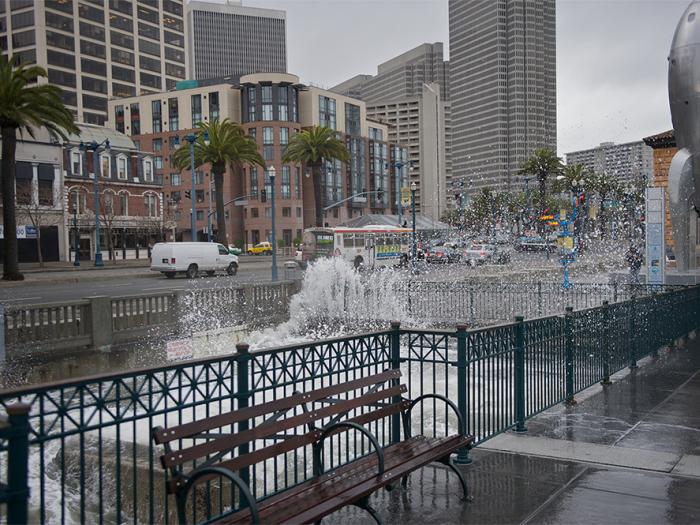 Citywide
Community Safety Element
A part of the General Plan Updates
The Planning Department is updating the Community Safety Element to strengthen its support of racial and social equity, environmental justice, climate mitigation, and climate adaptation. As the climate crisis worsens and disasters strike, disproportionate burdens are suffered by increasing numbers of vulnerable residents.
The Community Safety Element Update will provide a comprehensive set of policies for minimizing San Francisco's contribution to the climate crisis and ensuring local resilience to multiple hazards. It will help protect the assets and people of San Francisco, especially areas and communities that face higher vulnerability to disasters. 
The Element was last updated in October 2012 with enhanced policies for disaster preparedness and longer-term resilience. The current element contains four goals: mitigation, emergency preparedness, response, and recovery and reconstruction. It is particularly focused on seismic issues. 
Since then, there has been progress in the policies, approaches, and tools for ensuring community safety from natural, climate-induced, and human-made hazards. Communities of color and other disadvantaged neighborhoods are often hurt first and worst in any disaster, and struggle more to recover. 
This update will comply with California State Senate Bill 379 (Jackson, 2016) ensuring consistency between the Community Safety Element and the City's local hazard mitigation plan (2020 Hazards and Climate Resilience Plan). It will also comply with Senate Bill 1000 (Leyva, 2016) directives around environmental justice and be closely coordinated with the City's Climate Action Plan updates.
The proposed updates include two additional goals: equitable community safety and climate resilience. In order to achieve these goals, policies will be developed for racial and social equity, environmental justice, and resilience to multiple hazards that also reduces greenhouse gas emissions. These issues will also be integrated throughout the existing four goals as the existing content is refined for gaps and clarity. 
Timeline for Community Safety Element
 
2019
Fall 2020
Winter 2021
Spring 2021
Summer 2021
Fall 2021
Key Project Milestones
 
 
 
Framework
 
 
 
 
 
 
 
 
 
 
 
 
Policy Language
 
 
 
 
 
 
 
 
 
 
 
Environmental Review (tentative)
 
 
 
 
 
 
 
 
 
 
 
 
Policy Adoption (pending Env Review)
 
 
Community Engagement
Workshop: Hazards and Climate Resilience
 
 
 
 
 
 
 
 
 
 
 
 
 
 
Workshop: Climate Action Plan
General Plan Open House
 
 
 
 
 
 
 
 
 
 
 
 
Public Engagement (ongoing)
 
Project Resources
Community Safety Framework - Coming Soon
Informational Presentation - Coming Soon
Fact Sheet - Coming Soon
Interagency Coordination
The Community Safety Element Update will be consistent with two key City implementation plans, the Hazards and Climate Resilience Plan (local hazard mitigation plan) and Climate Action Plan (climate action strategy). Together, these three documents provide a vision and direction for San Francisco's climate resilient future through comprehensive planning, longer-range policies, and nearer-term strategies and actions. 
The Hazards and Climate Resilience Plan (HCR) is San Francisco's blueprint to better understand and address the impacts of both sudden and slower moving disasters on people, buildings, and infrastructure. It identifies the hazards, vulnerabilities, and consequences the city could face without action, and proposes over 90 strategies to mitigate risks and adapt to unavoidable climate impacts. It was co-created by 26 agencies and led by the Office of Resilience and Capital Planning.  
The Climate Action Plan (CAP) is San Francisco's roadmap for eliminating greenhouse gas emissions to minimize the severity of climate-related hazards locally and do our part globally. It charts the best pathways for action towards San Francisco's net-zero city commitment, per the Paris Climate Agreement. To minimize global heating and its severe impacts, the City is striving to meet these goals by 2030: 0 waste, 80% sustainable trips (walking, biking, transit), 100% renewable energy, and urban greening for carbon sequestration.
To schedule a meeting with the Planning Department, please email lisa.fisher@sfgov.org. 
Sign up for our email list to receive periodic updates on the Community Safety Element.
 
DATE
DETAILS
MINUTES
MATERIALS
February 18, 2021
5:30-7:00pm
RSVP Here (free)
SF Department of the Environment - Climate Action Plan Workshop
Topic: Climate and Resilience