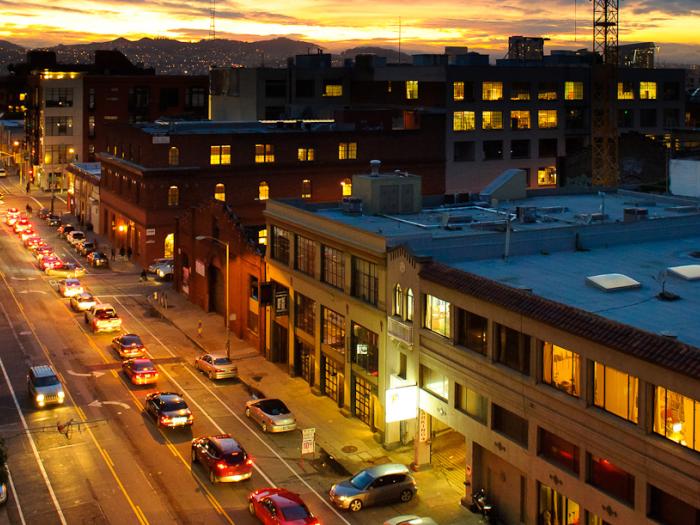 Potrero Hill, South of Market
Showplace / SoMa Neighborhood Analysis and Coordination Study (SNACS)
Several area plans and projects are positioning the Showplace/SoMa area for long-term change. The Showplace/SoMa Neighborhood Analysis and Coordination Study (SNACS) will identify strategies to coordinate these efforts, including potential opportunities to support neighborhood goals for increasing housing, PDR jobs and public space access.
Thanks to Seven Stills and all who attended Meeting 1 on November 19th. For those who could not attend, please review the Meeting and Events tab for details.
This study will identify strategies to create a cohesive urban design between neighborhood plans shown below, while analyzing opportunities in the planning code and city policy to create: 
Additional market-rate and affordable housing 
Capacity for Production, Distribution and Repair (PDR) jobs
A seamless network of open spaces and walkable streets
The study will produce:
A guiding policy report 
Recommendations and/or Planning Code updates to implement policies 
A feasibility analysis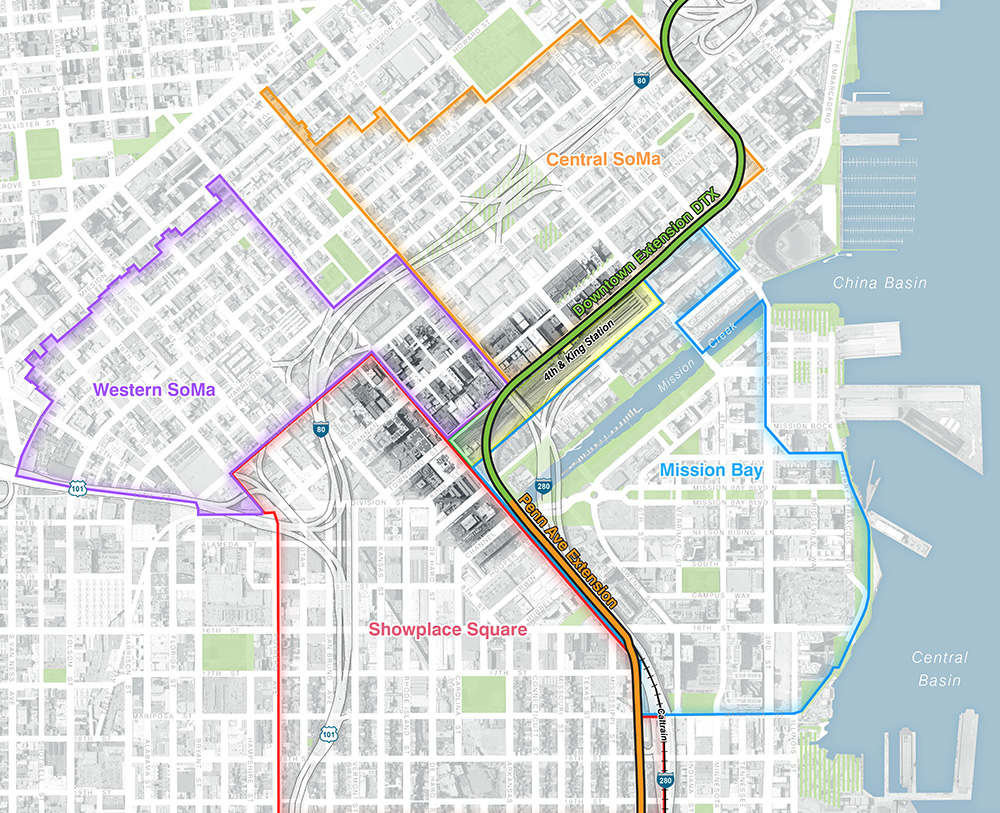 Related Transportation Planning and Projects
The 2009 Showplace Square/Potrero Area Plan sought to stabilize and reserve sufficient space for PDR businesses in the area while providing space for housing and other uses. Since 2012, the demand for housing and office, combined with the need for modern production and biotech spaces, has increased pressure on the area. The Central SoMa Plan, Mission Bay, Mission Rock, and additional growth along the waterfront will accommodate some of this demand. Opportunities on the Recology site at 900 7th Street and others near the Railyards could provide housing as well.
Transportation planning is also positioning the area for significant change. The planned Downtown Rail Extension (DTX), future 4th/Townsend rail station, and a proposed Pennsylvania Avenue Extension could place a significant amount of rail infrastructure underground, while growing the neighborhood's role as a regional transit-oriented destination. The Central Subway will soon link the area directly to downtown with underground Muni metro service, and the first phase of the 16th Street Improvement Project is scheduled for 2020.
These projects and plans are positioning the Showplace/SoMa area for long-term change. This Study will identify strategies to coordinate them and create a cohesive urban design where they meet. Building on existing neighborhood planning goals, the SNACS will also explore policy and planning code updates in order to increase housing, PDR jobs and public space access.
Upcoming Events
None at this time.
Schedule and Meeting Materials
Date
Meeting Information
Materials
(will post after event)
August 19, 2019
6:30 p.m. 
Eastern Neighborhoods CAC
Planning Department
1650 Mission Street
Suite 400
San Francisco, CA 94103
Sept 12, 2019
5 p.m.
Mission Bay CAC
Mission Creek Senior Center
225 Berry Street
San Francisco, CA 94158 
Sept 24, 2019
6 p.m.
 
Potrero Boosters Neighborhood Association
Potrero Hill Neighborhood House
953 De Haro Street
San Francisco, CA 94107
Oct 17, 2019
5:30 p.m.
South of Market Community Stabilization Fund
Community Advisory Committee
6th Street Community Room 
1000 Mission Street 
San Francisco, CA 94103
Nov 4, 2019
6 p.m.
 
South Beach, Rincon, Mission Bay Neighborhood Association
South Beach Harbor Services Building (Pier 40A)
San Francisco, CA 94107
 
Public Meeting #1
November 19, 2019 from 6-8pm
Event Flyer
Workshop 1: Urban Form, Land Use
Seven Stills Brewery & Distillery
100 Hooper Street, Suite 4
San Francisco, CA 94107

 

February 2020
Workshop 2: Public Realm, Transportation Updates
 
April 2020
Workshop 3: Public Benefits, Refined Land Use & Design
 
Summer 2020
Next Steps TBD